Everyone thinks the moms we know and love are undercover superheroes — and they're right! So this Mother's Day, here's a sweet way to celebrate all that they do: with a Mother's Day card adding your personal touch.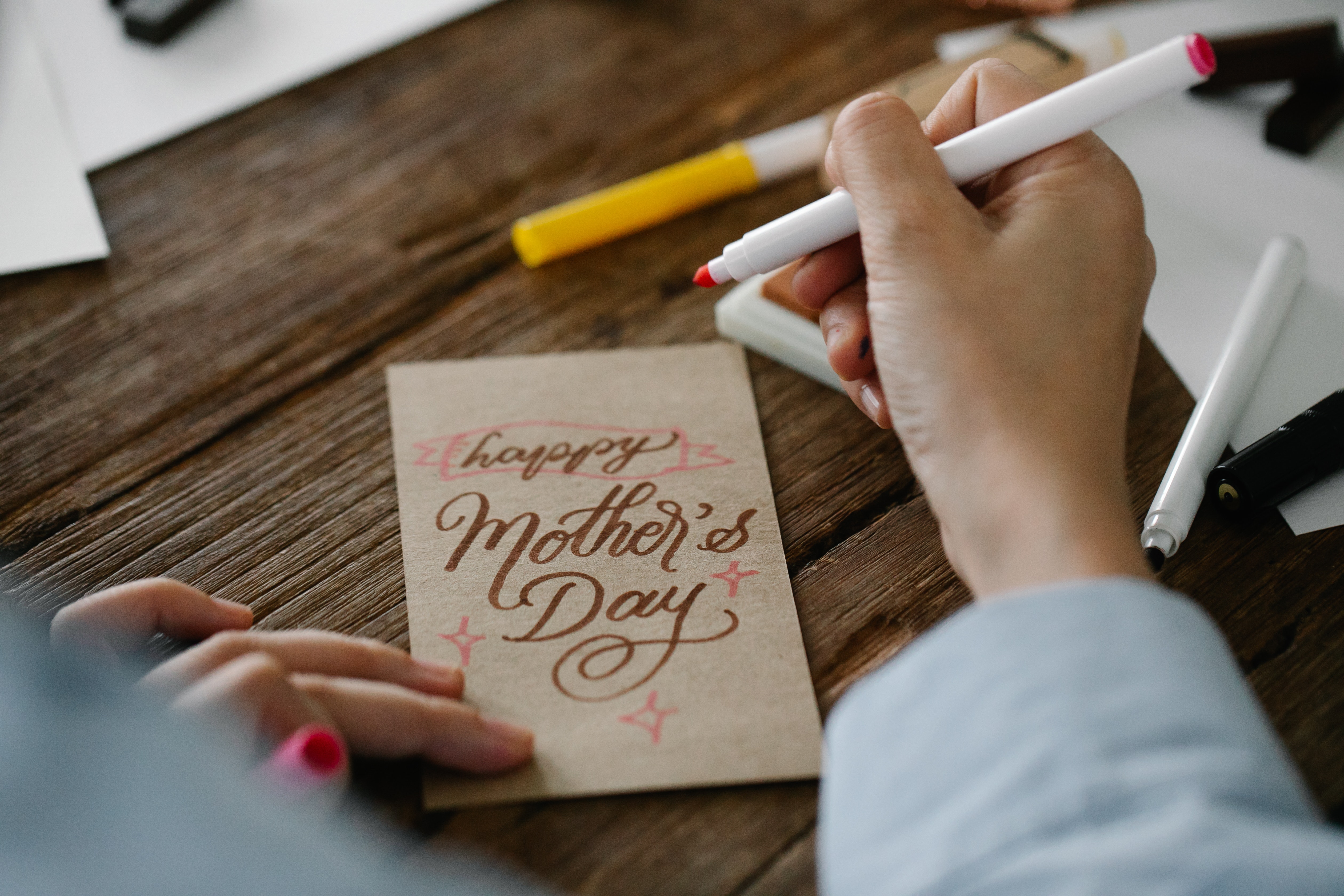 Whether you're a DIY pro or an e-card enthusiast, we've got you covered. Here are a couple of cute Mother's Day card ideas you can create digitally or with some arts and crafts material. Get ready to impress Mom with a card that'll make her laugh, smile, and wonder how you managed to pull it off.
Use Designify's Mother's Day Card template
No time? No problem. An e-card helps you get creative and share with your Mom immediately. All you need is a cute photo — and Designify's Mother's Day Card template — to create an aww-some digital Mother's Day card like this: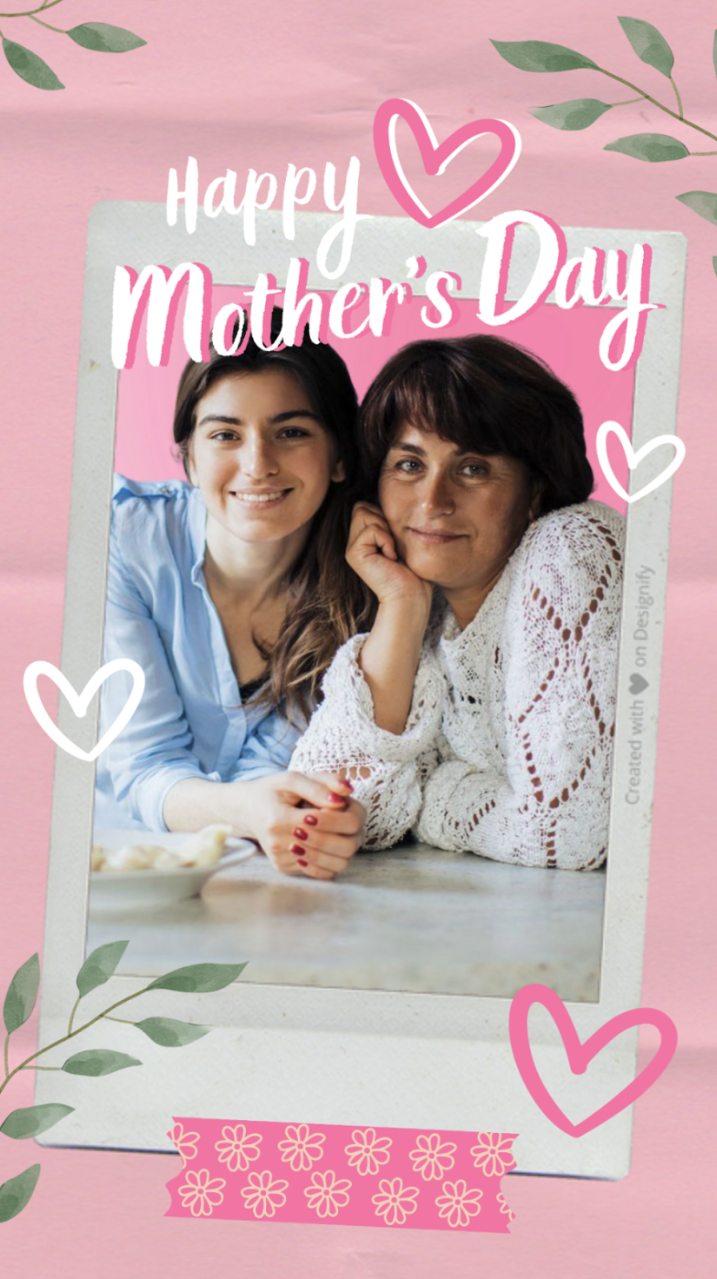 And here's how:
1. Drag and drop (or > Upload) your photo to Designify: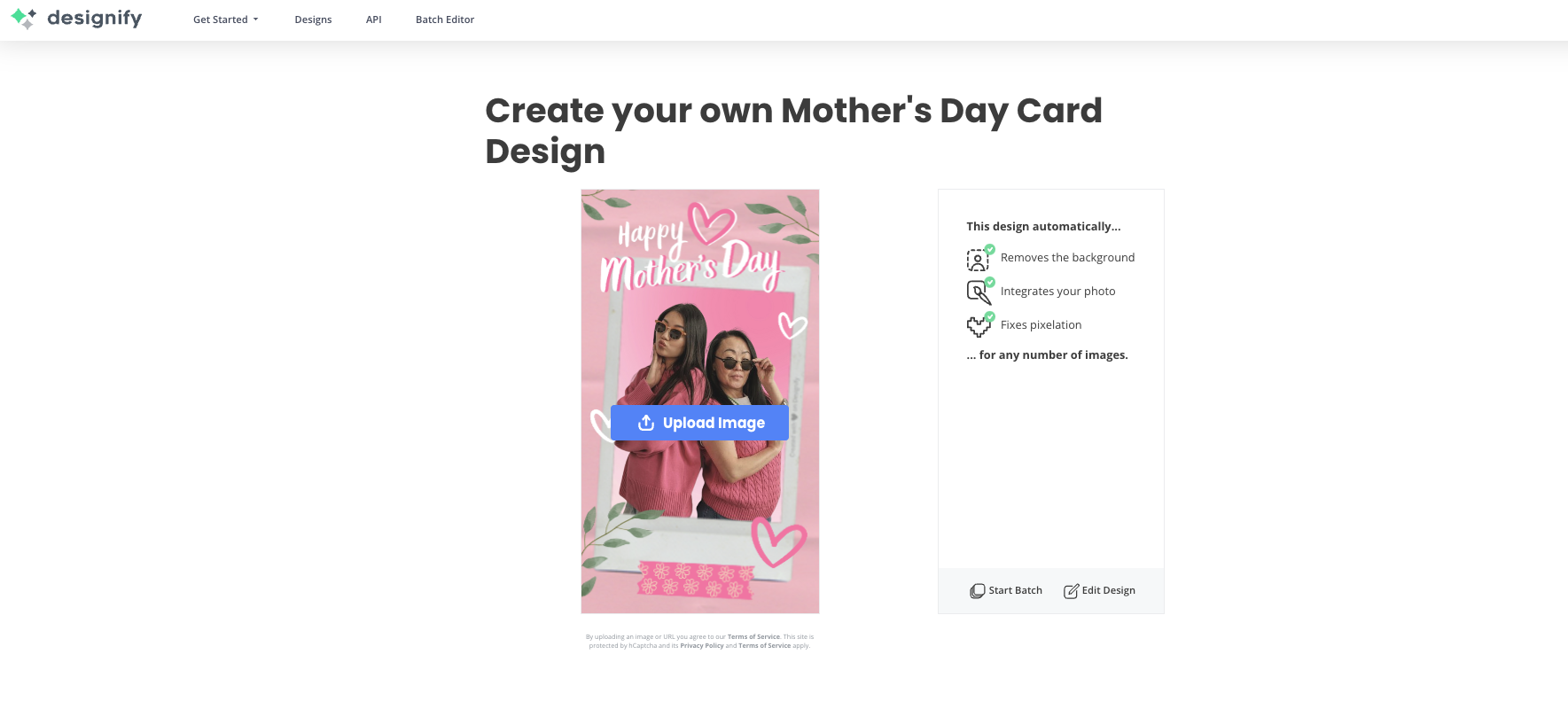 2. If you're happy with your photo, go ahead and > Download it to save it on your device: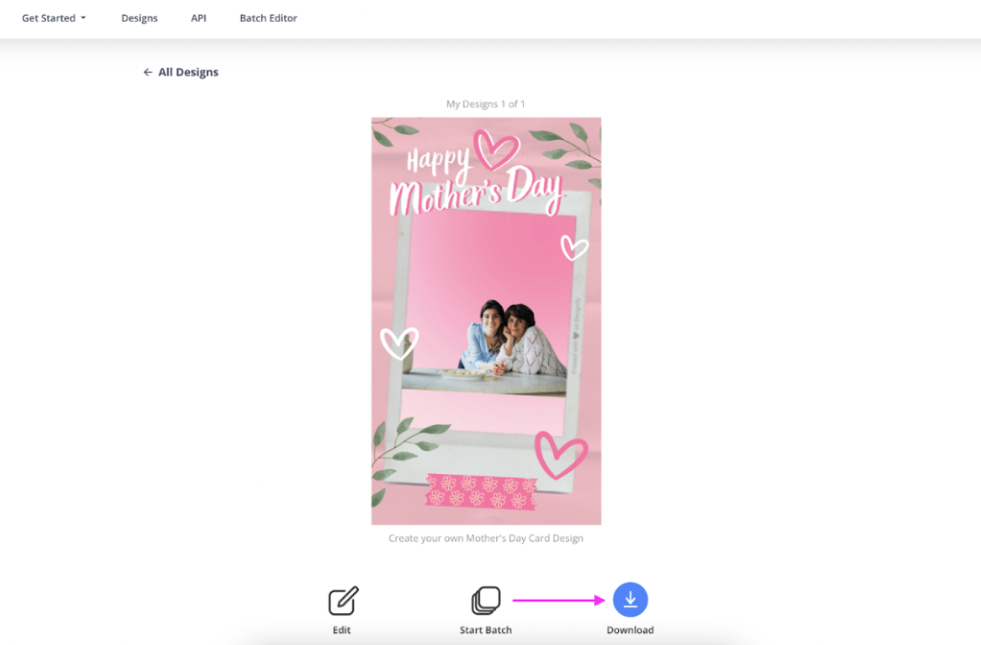 But if you want to adjust it a bit, let's > Edit instead: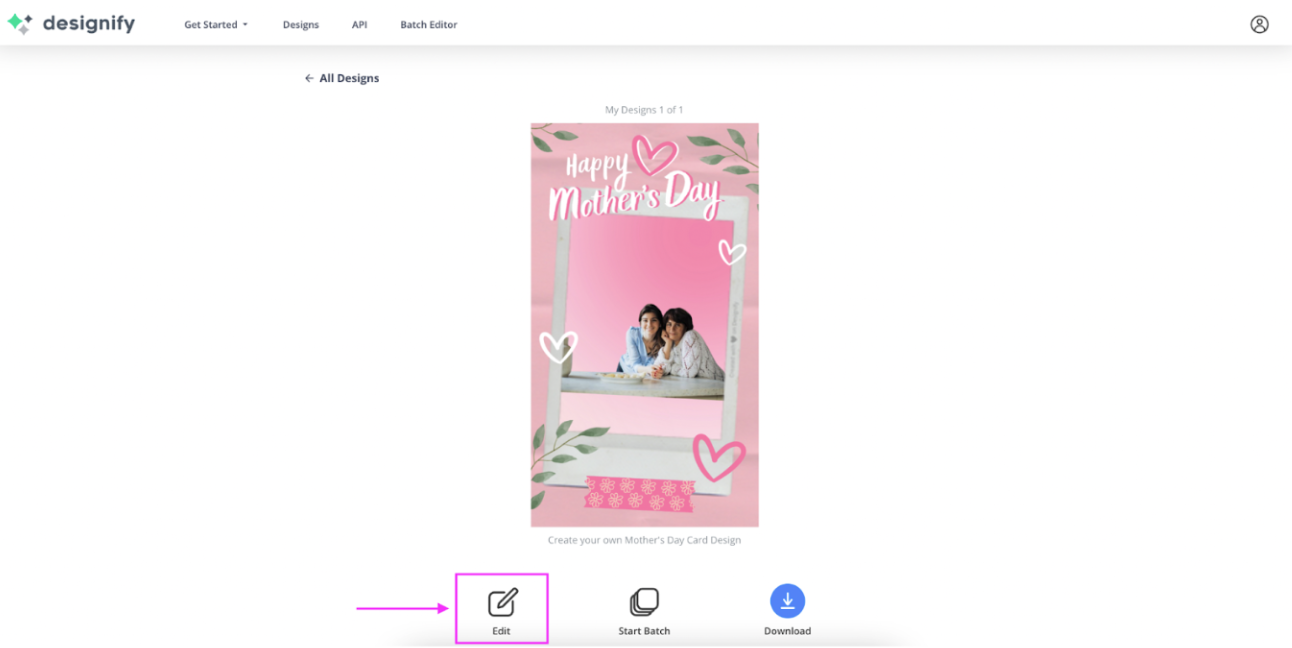 3. Now just click on your photo to move it around or resize it: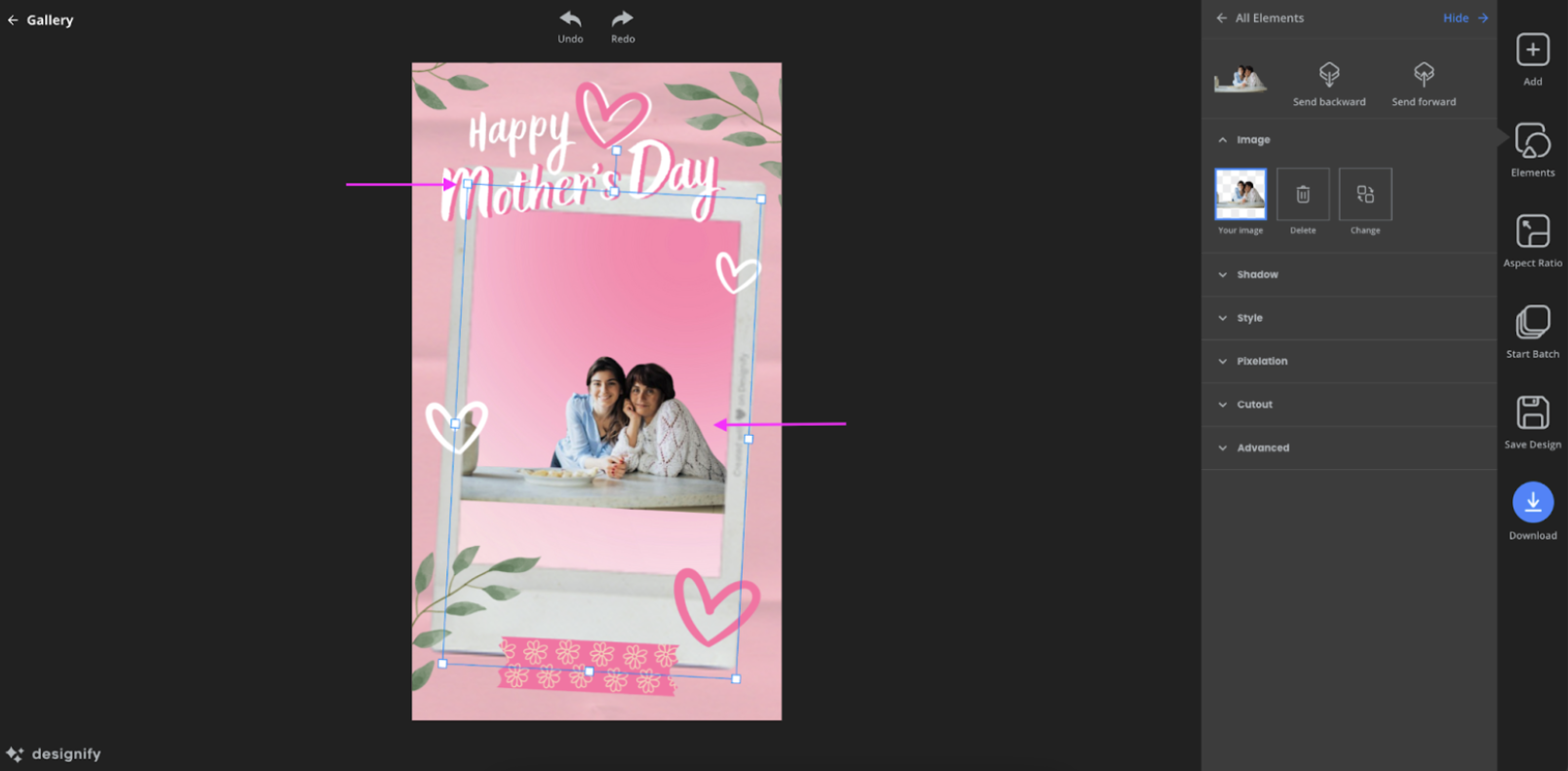 4. You can even click on the template elements to move them around — like the "Happy Mother's Day" text: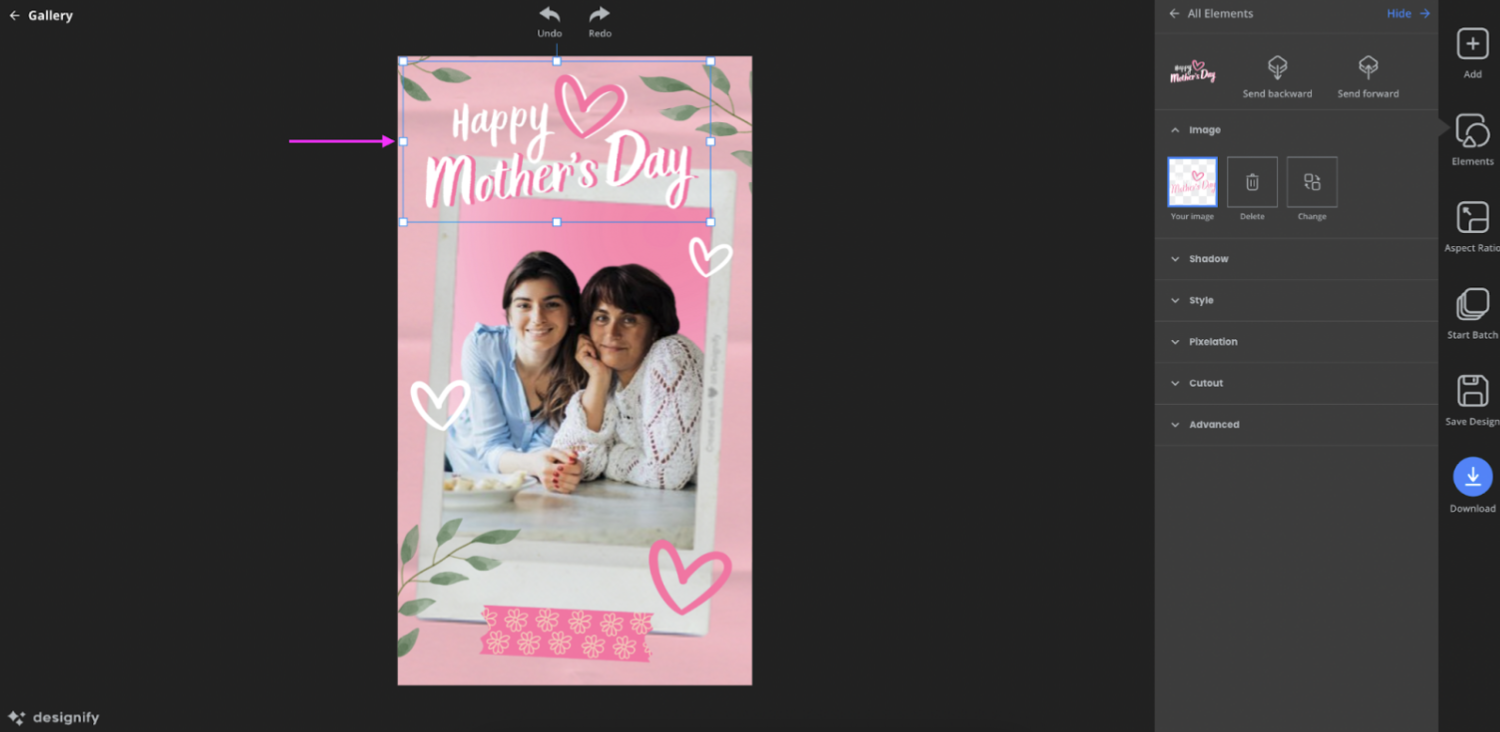 Here's an example where we moved it more to the center and moved the white > Heart element a bit: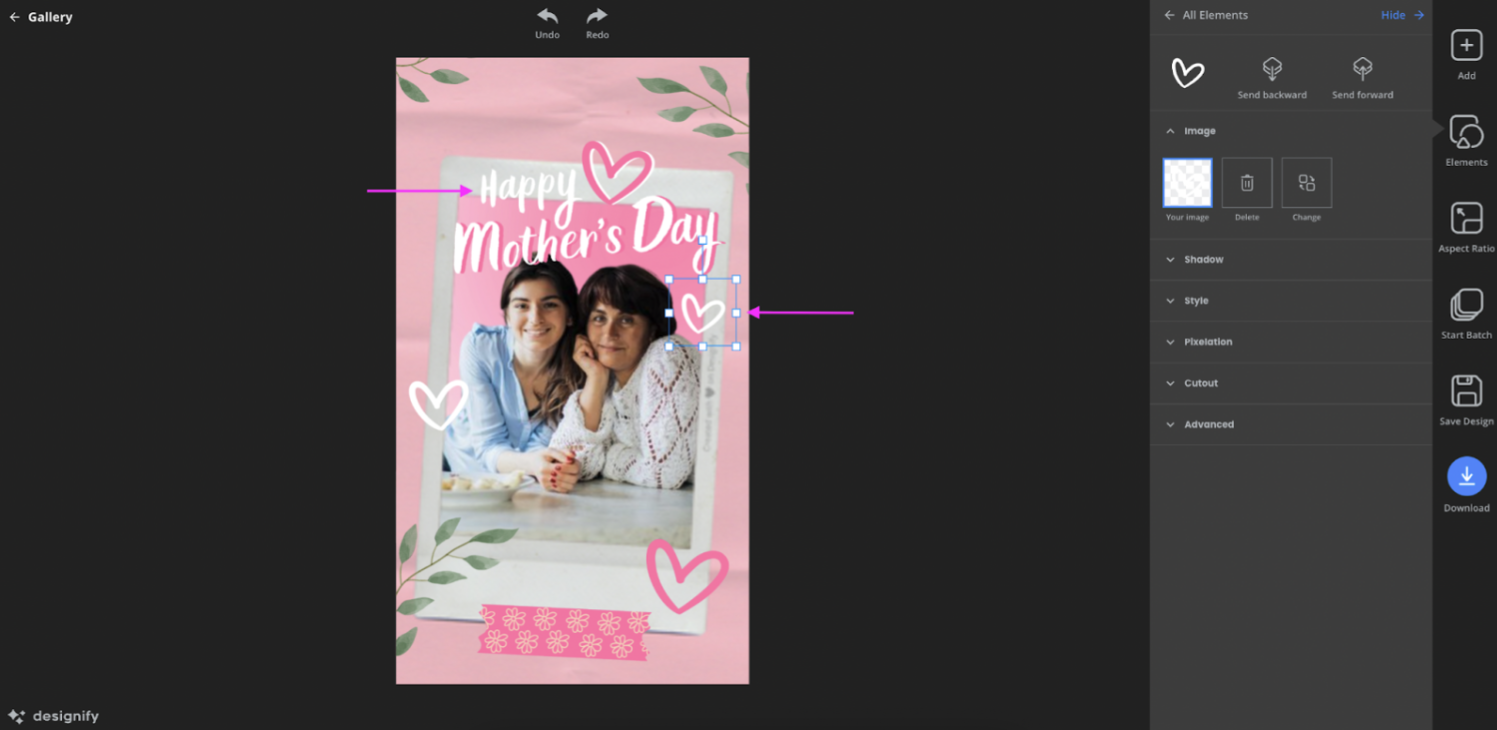 5. Hit the blue > Download button once you're done:
Easy-peasy, right? With just a few steps, you now have a ready-made Mother's Day e-card to dedicate to your Mom right away on your socials. Perfect for when you're in a rush — but still want to bring a smile to her face.
How to create a Mother's Day Card collage with Designify
Got a bit more time at hand and a ton of moms you know and love? Let's grab a couple of their photos and put them together in a collage like this: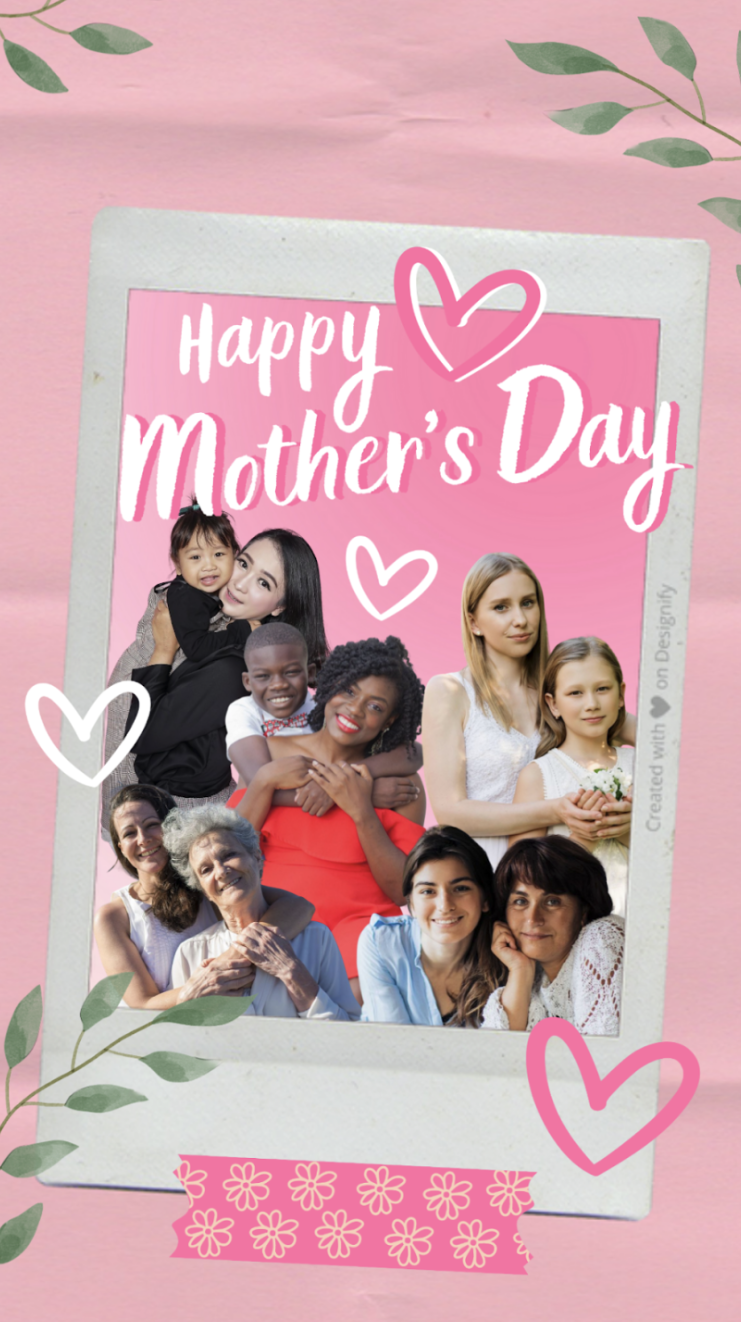 Here's how:
1. From the Mother's Day Card template, start with > Customize Design: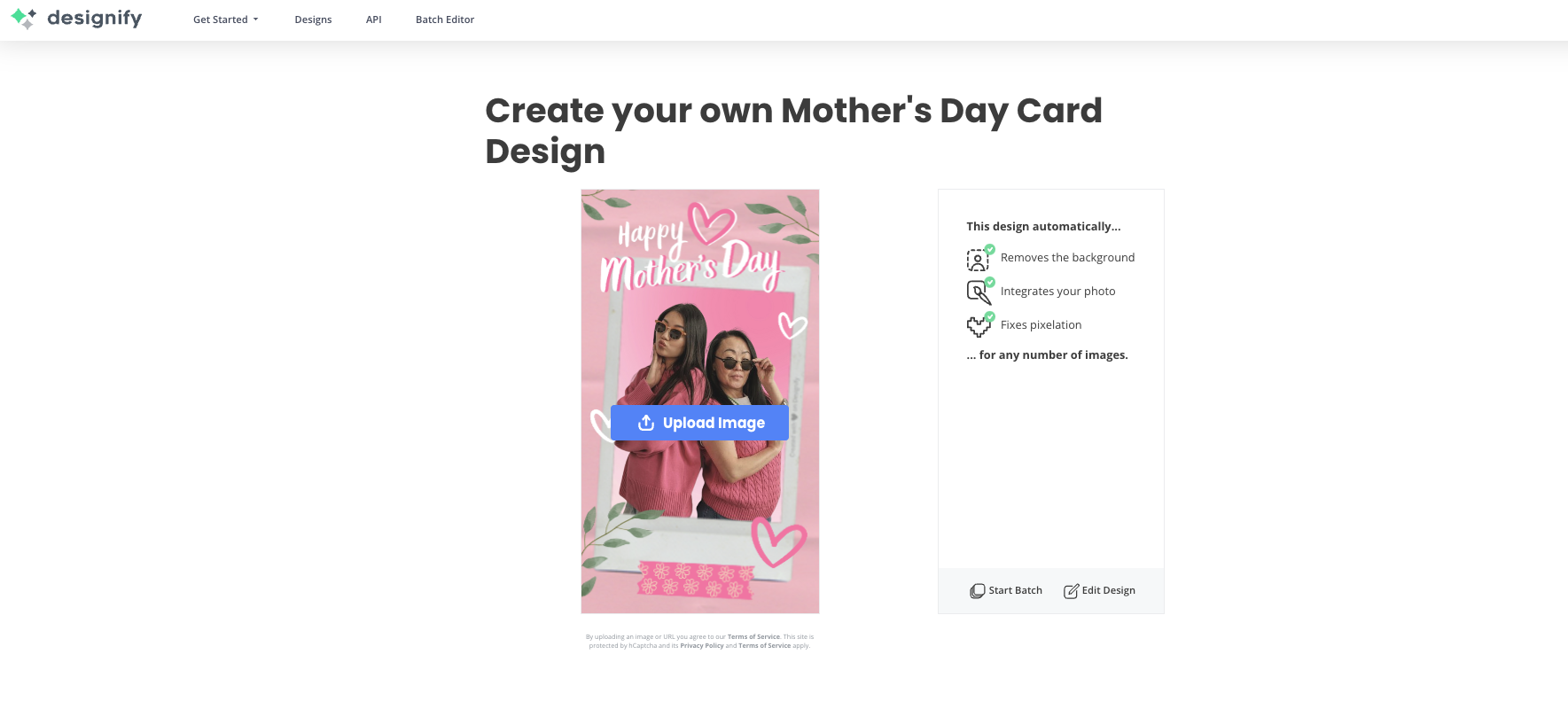 2. Click on the template's stock photo, > Backspace, and then > Confirm to remove it: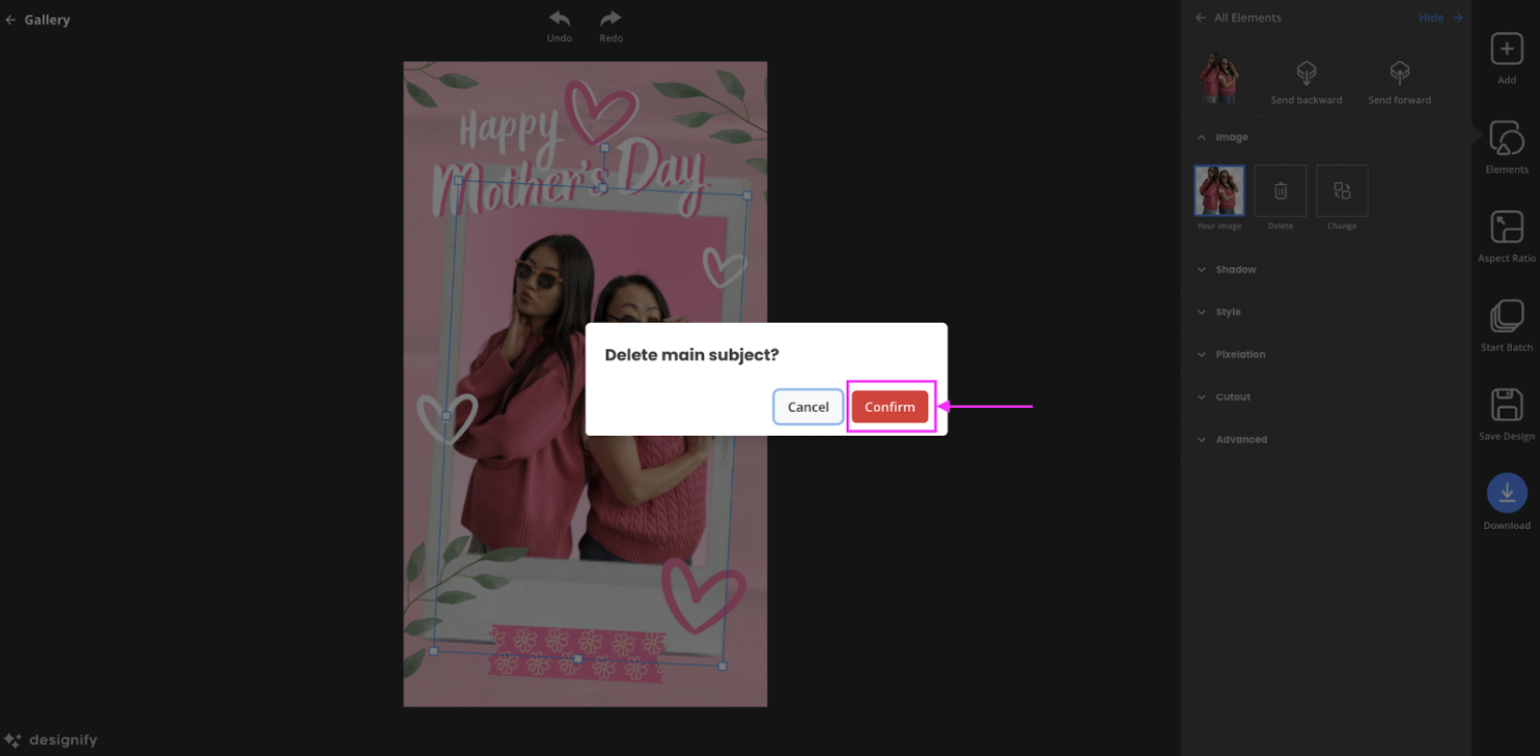 3. Now start dragging and dropping your own photos directly into Designify. Let's start with one from the first example: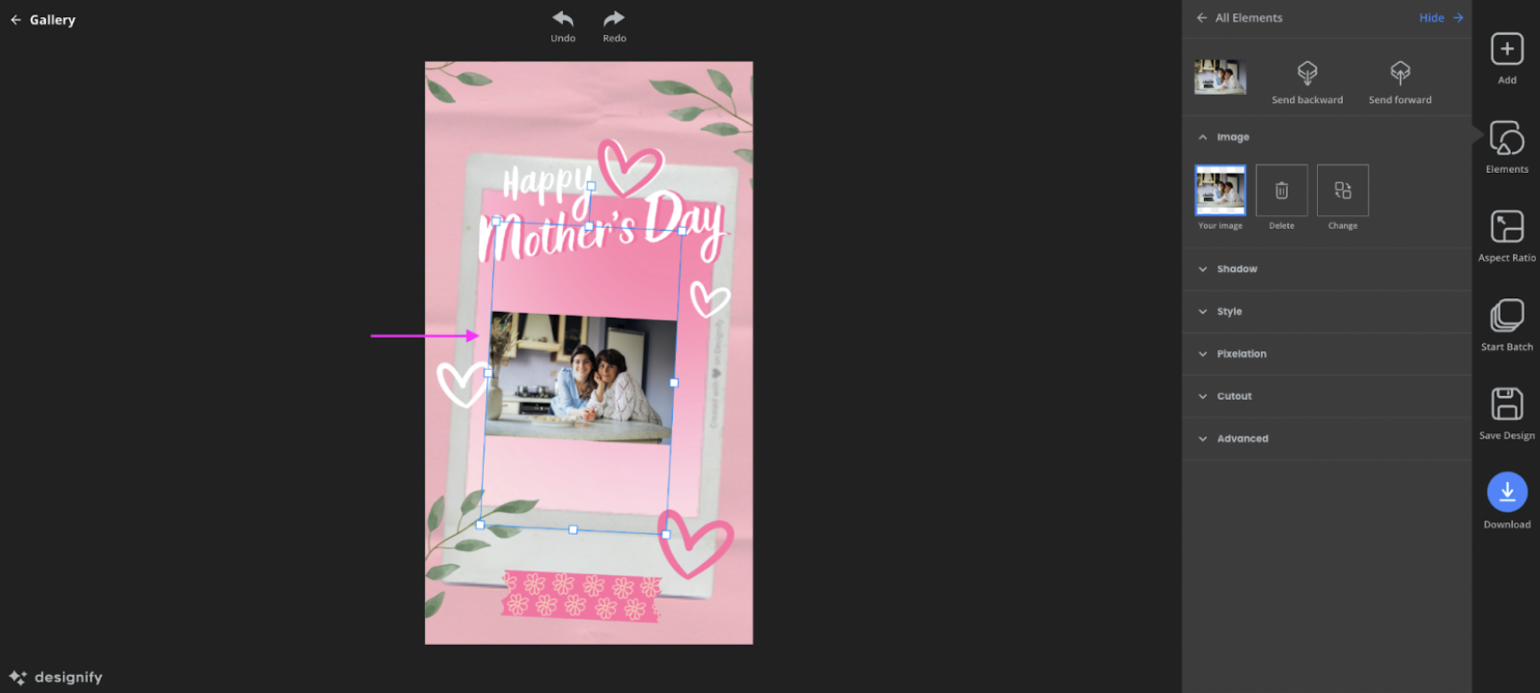 (Remember, just click on your photos to move them around and resize them.)
4. Now, we want our photos to blend in with the background of the template. So let's click on them, > Cutout, and then > Transparent to automatically remove their backgrounds: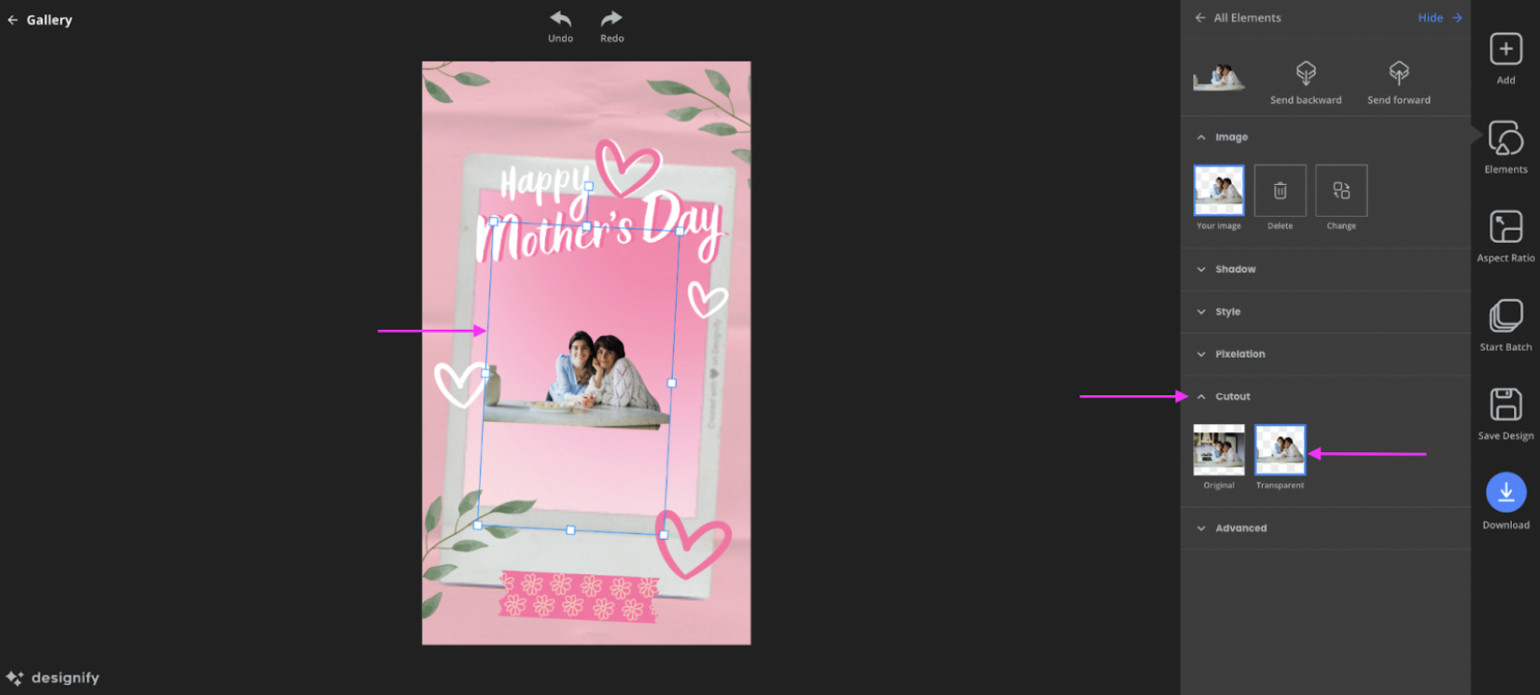 5. You can adjust the position of your photos with > Send backward and > Send forward: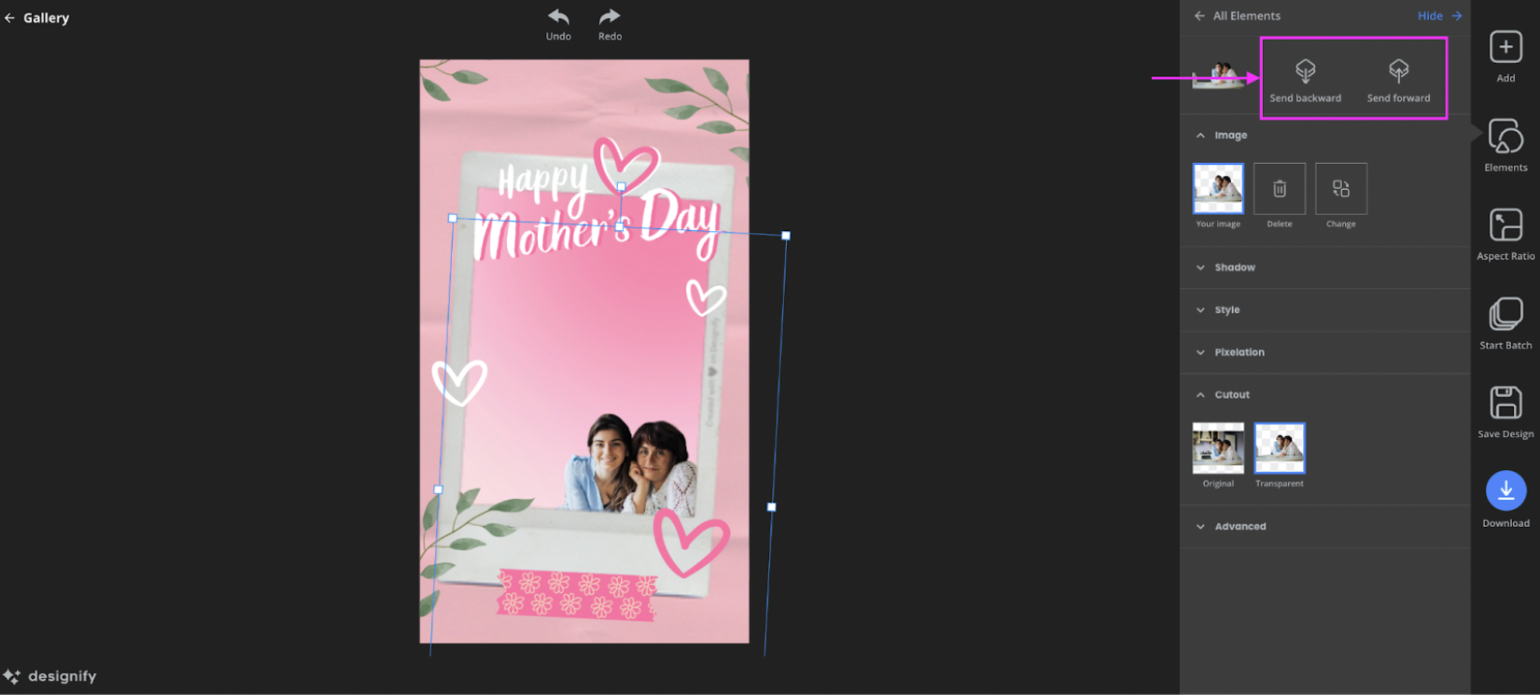 6. Drag and drop your other photos to Designify and repeat the steps from before (i.e., remove their backgrounds one by one with > Cutout and move them around until they fit perfectly);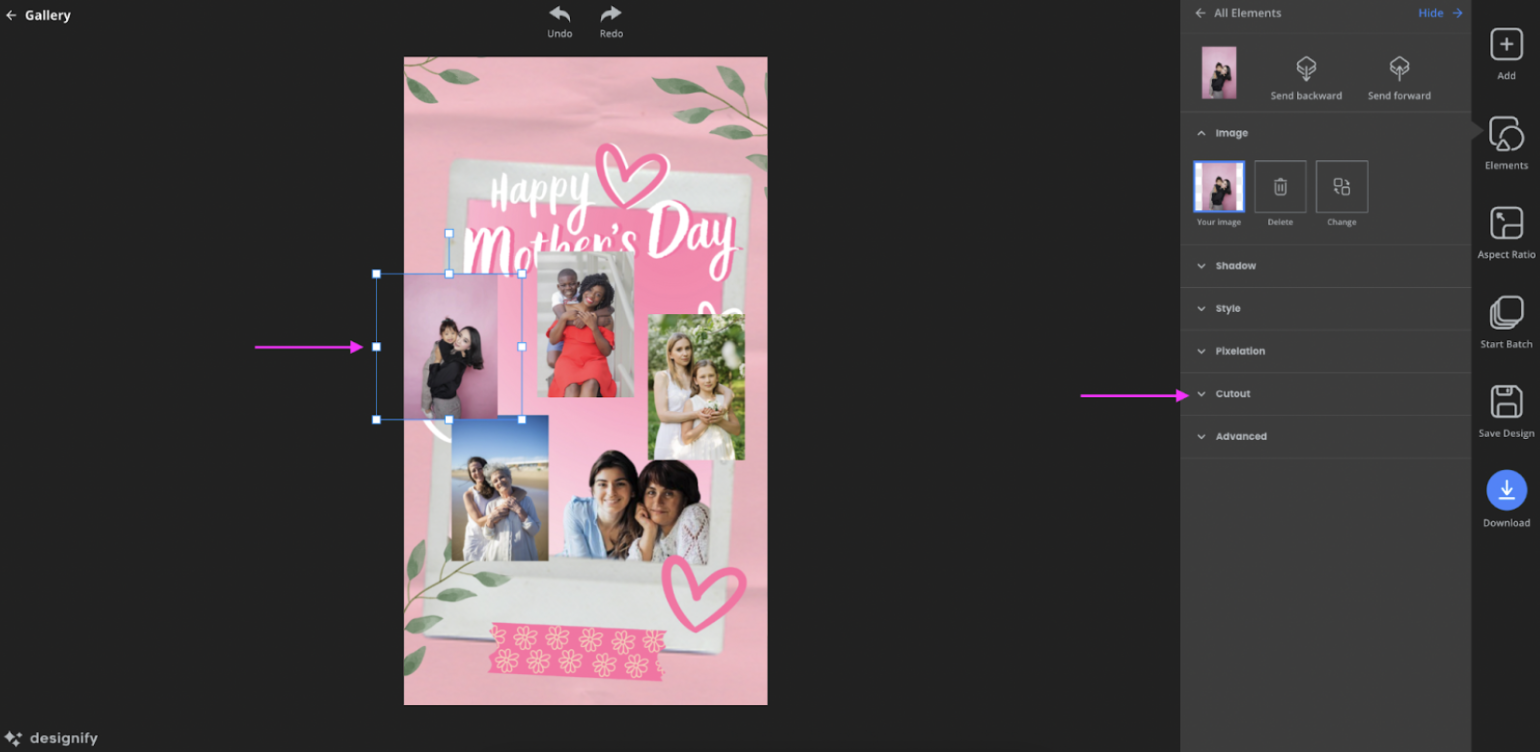 You can even click and drag the template elements to change their position: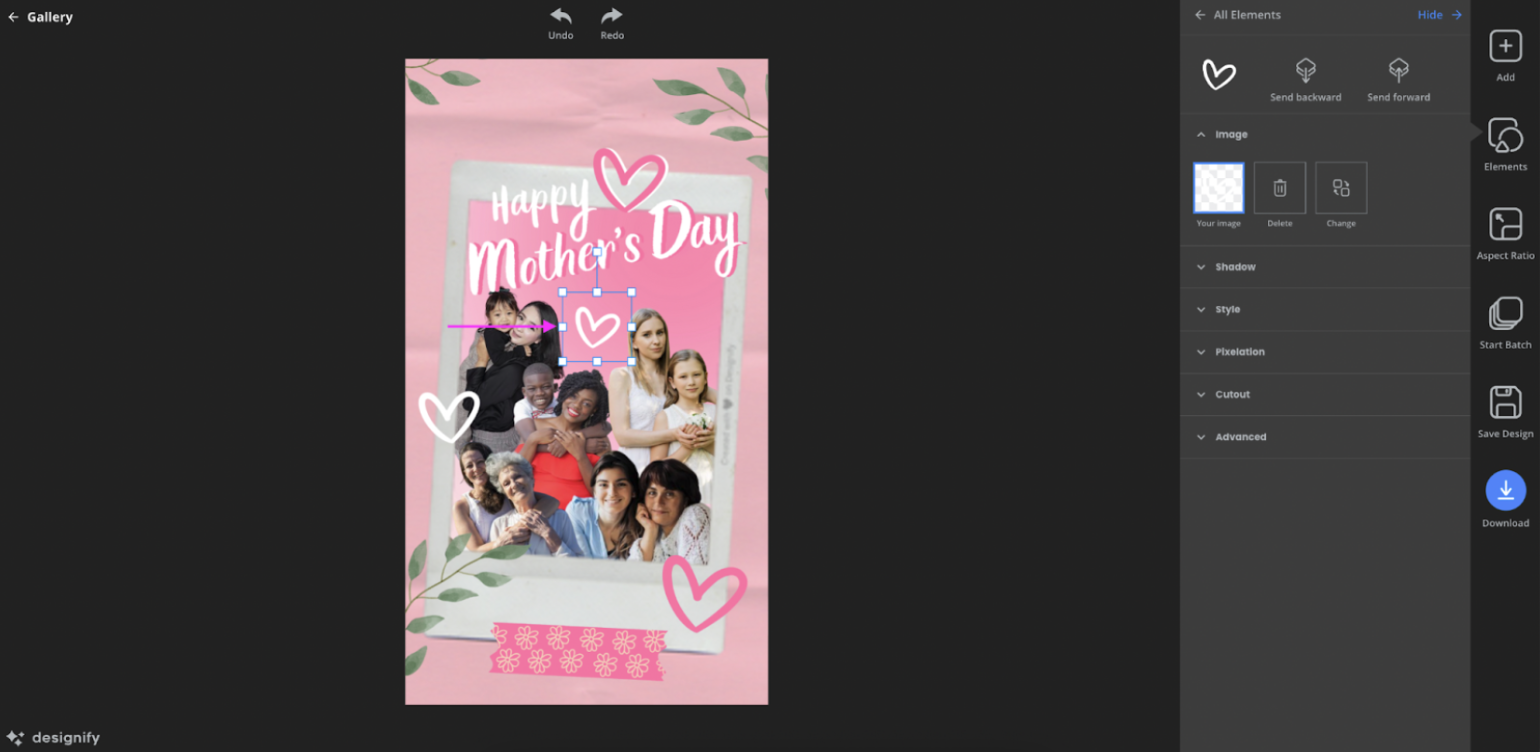 Then, hit> Download on the right-hand side once you're done.
And tada! With just a bit of creativity, you're ready with another lovely Mother's Day e-card to share on your bestie group chat or your Moms' network. Perfect for celebrating the mothers in your life in one go.
How to create a card for Mother's Day — in print
Want to create a more traditional Mother's Day card where you can add a handwritten message? You could print out your e-card, write your good wishes, and hand it to your Mom when you meet her on Sunday.
So with Designify and a little help from Canva, you can create a personalized print card for Mother's Day like this: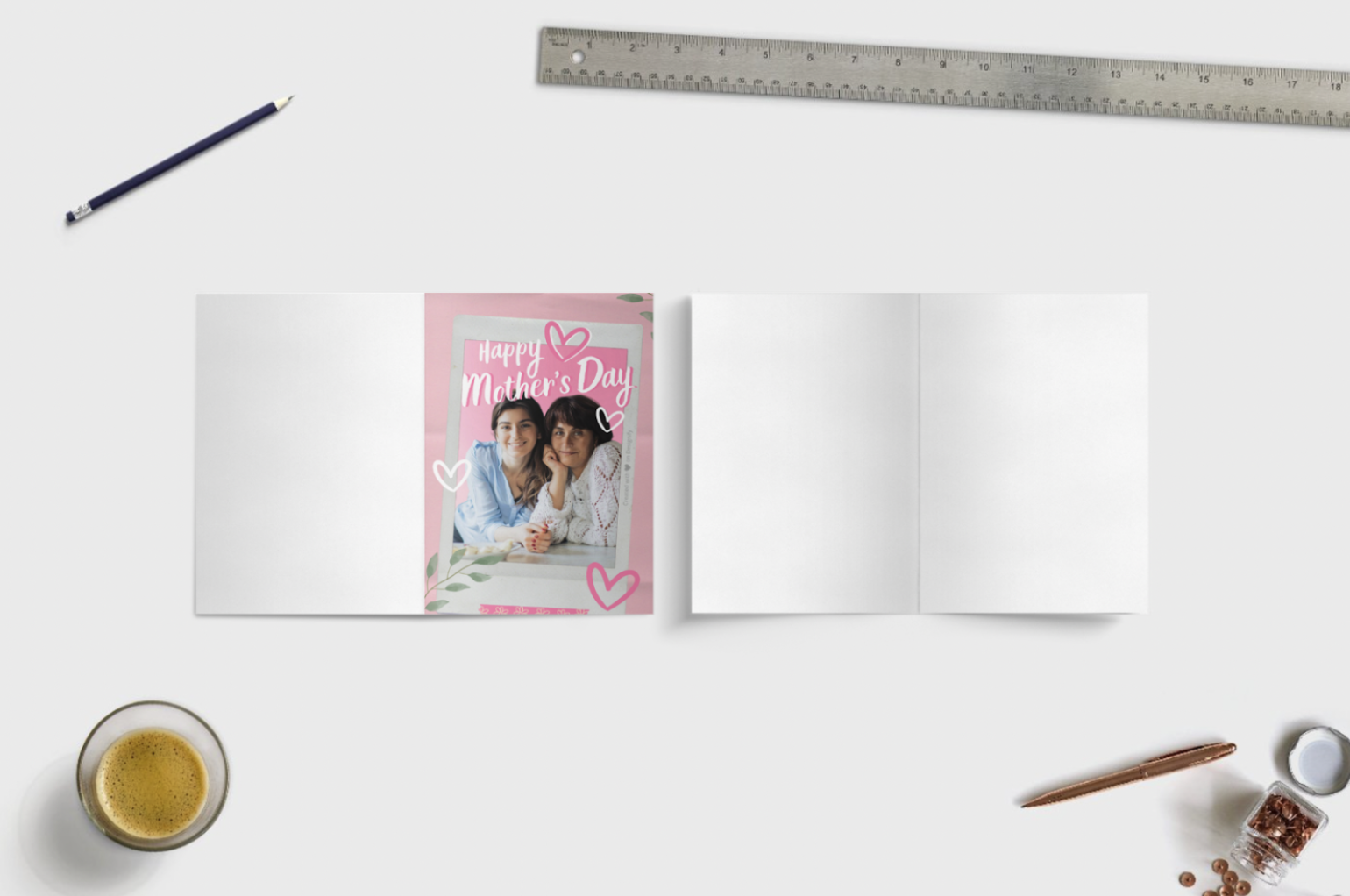 Way sweeter than anything you grab last minute from the gift store if you ask us. And with a photo of Mom, it adds a personal touch that'll make her treasure your card for years to come.
So once you've created your Mother's Day card with Designify, let's head to Canva:

1. From > Create a design, we went for > Folded Card (Portrait):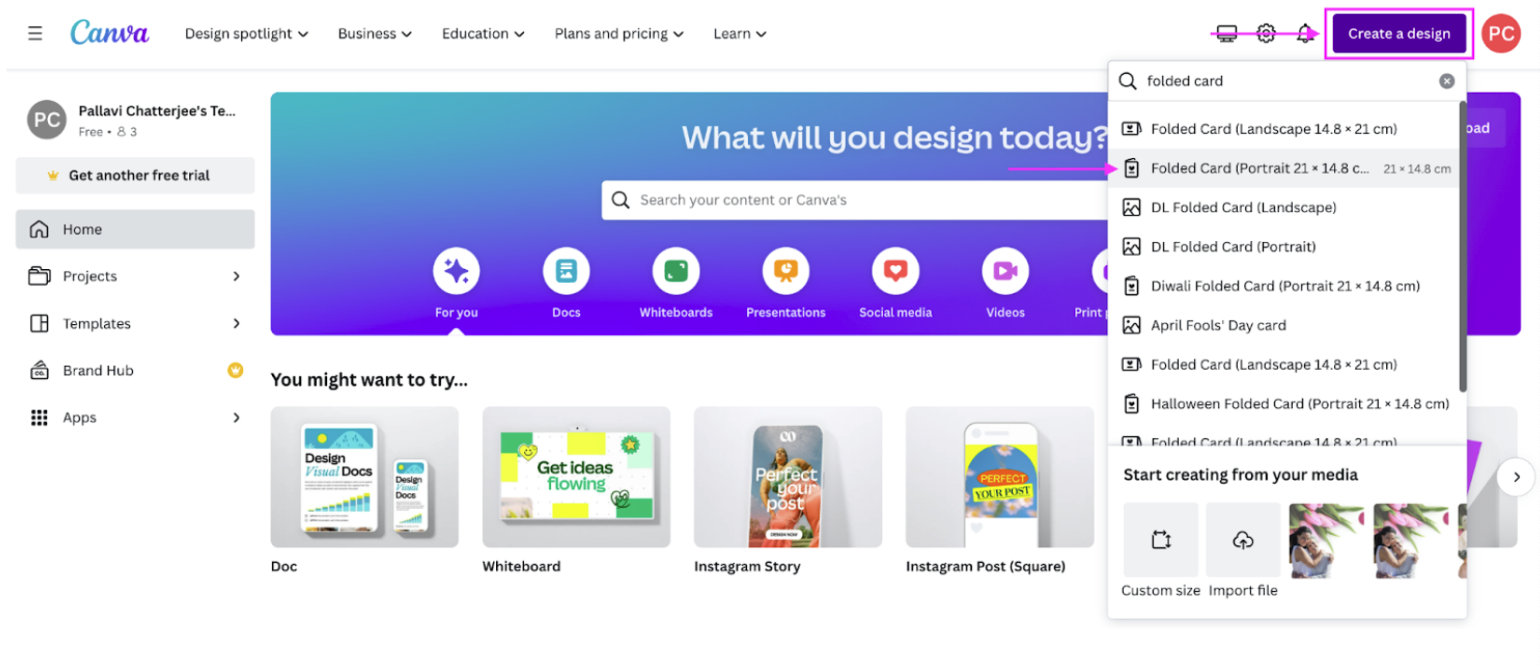 2. Upload (or just drag and drop) your Designify image: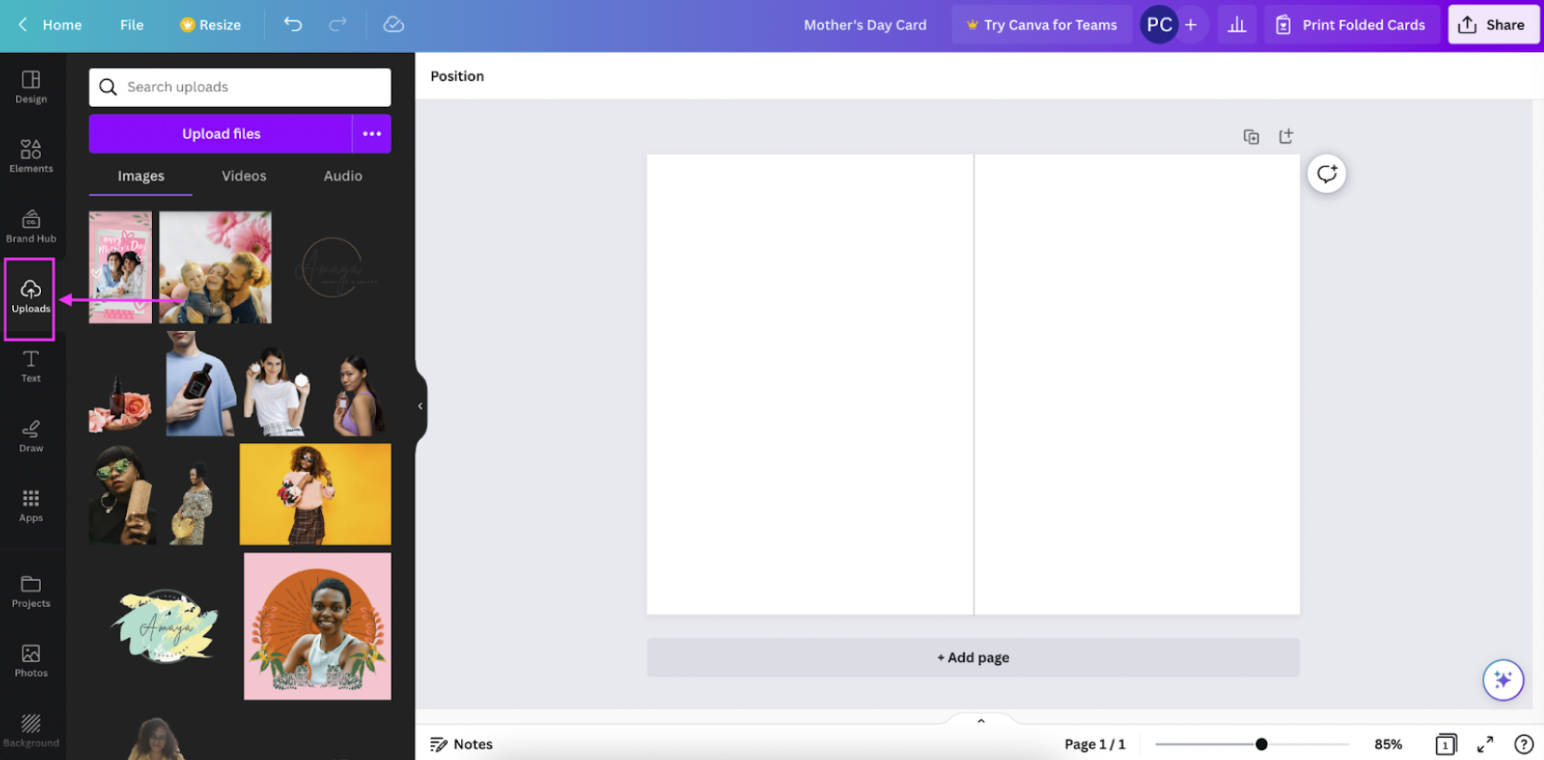 Drag and drop it to the canvas — we placed our image on the right-hand side because that'll get printed as the front page of your card: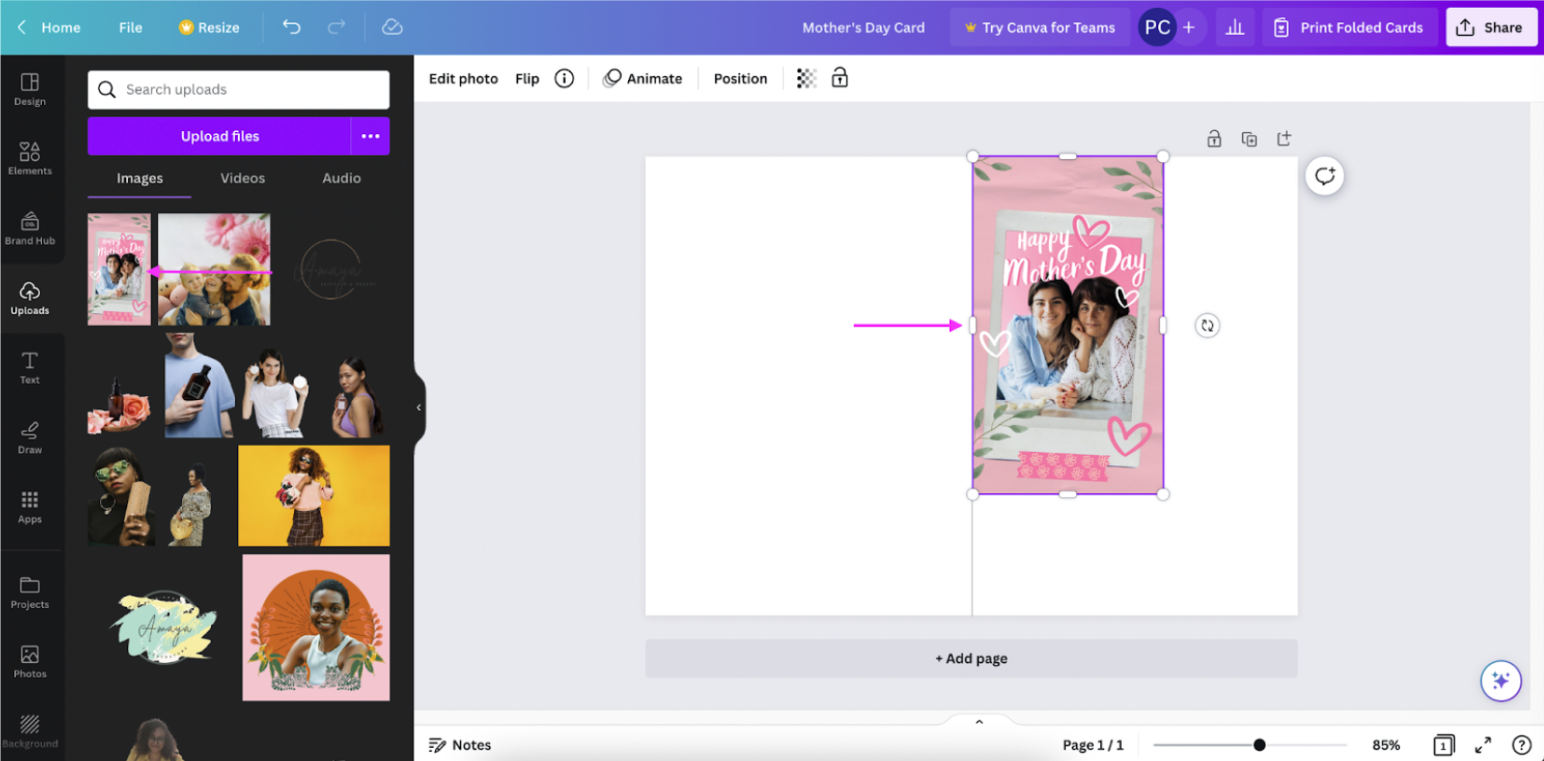 Resize your image until it fits the borders: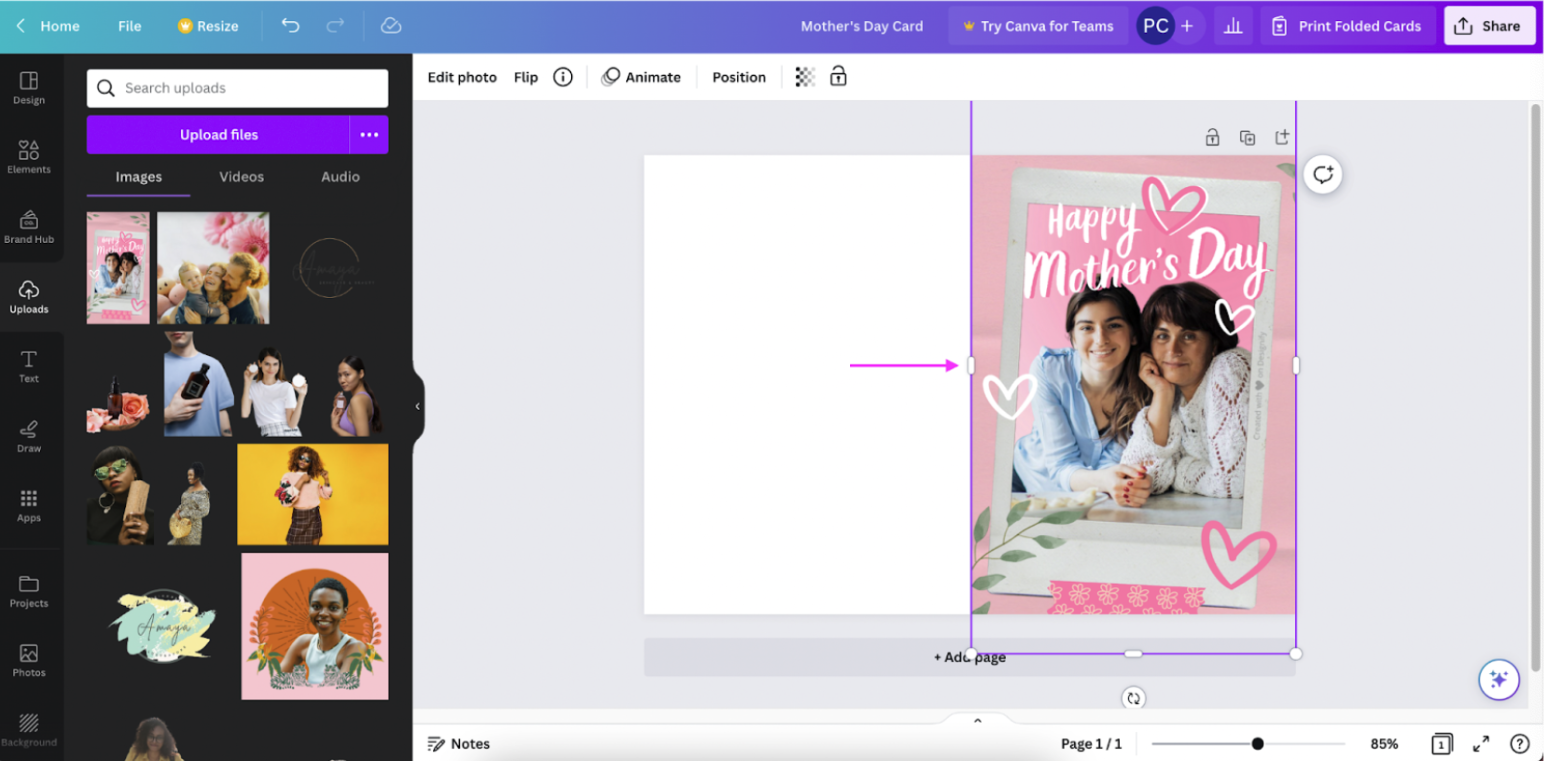 3. Now let's get printing — from the top-right corner, let's click > Share and then > Print your design: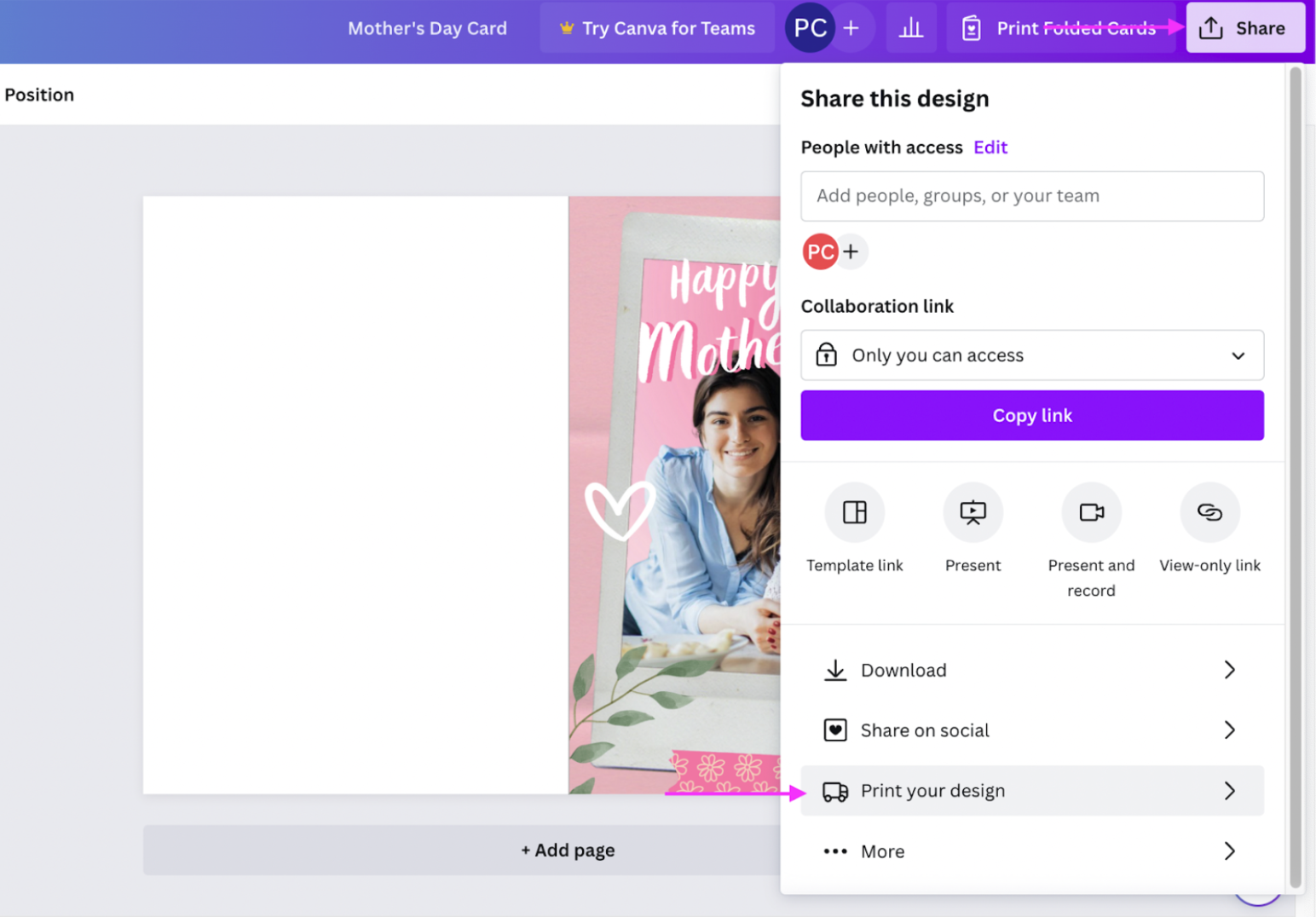 4. From the search option, you can quickly find Canva's print card options. We picked > Folded Cards (Portrait):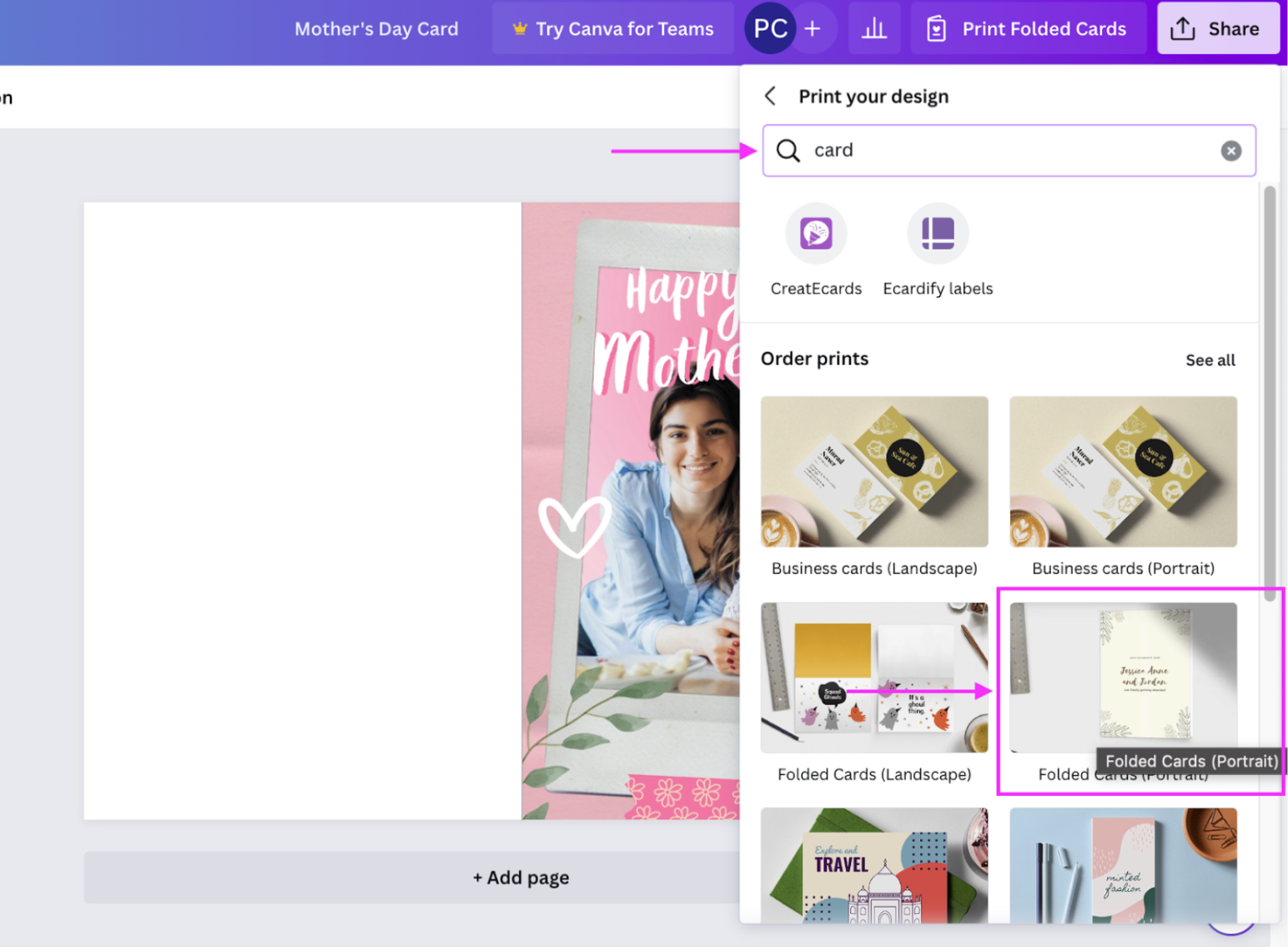 5. Adjust your print preferences and > Continue once you're done: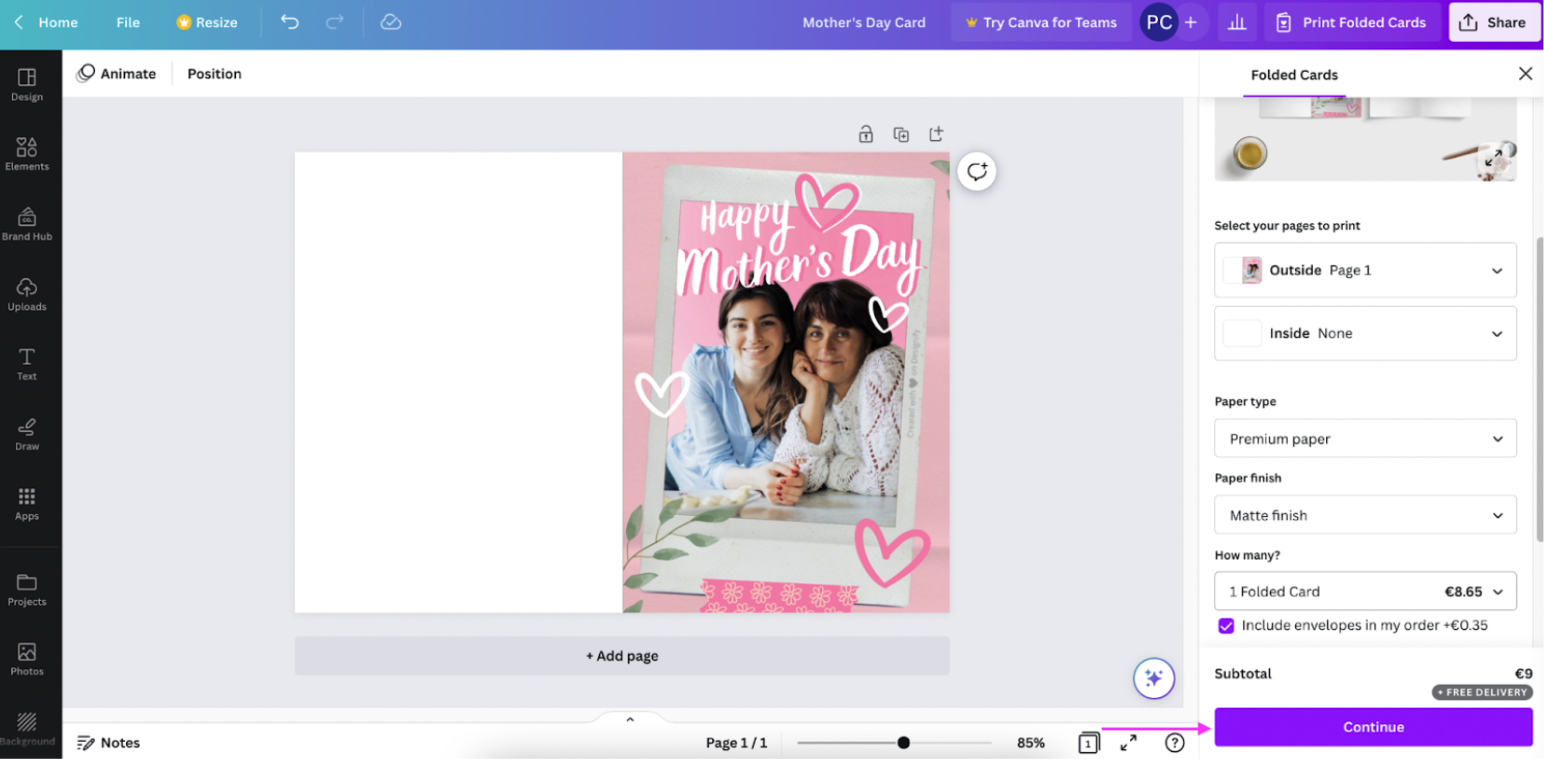 6. Ready to order? Let's > Checkout. (We'd recommend picking > Adjust edges for printing to make sure your photo prints just right.)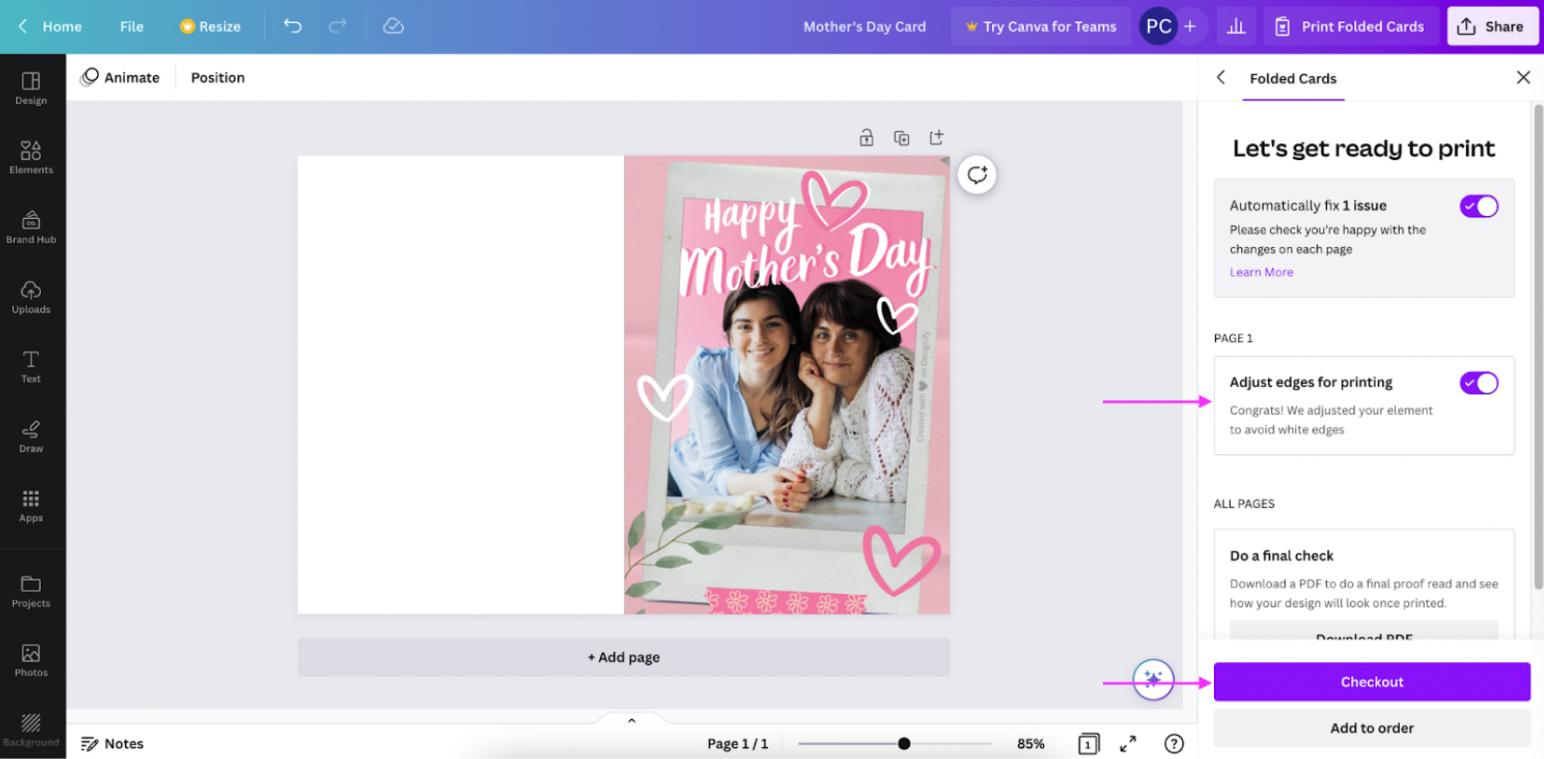 And in just a day or two, you'll have your hands on a gorgeous, personalized Mother's Day card — in print. Perfect to hand over to your Mom and watch the smile on her face in person.
Fun ways to DIY a Mother's Day Card
Love getting crafty? We also have a few DIY Mother's Day card ideas in store for you. This is great for getting your kids in on the fun and making Mom's day — all in one go.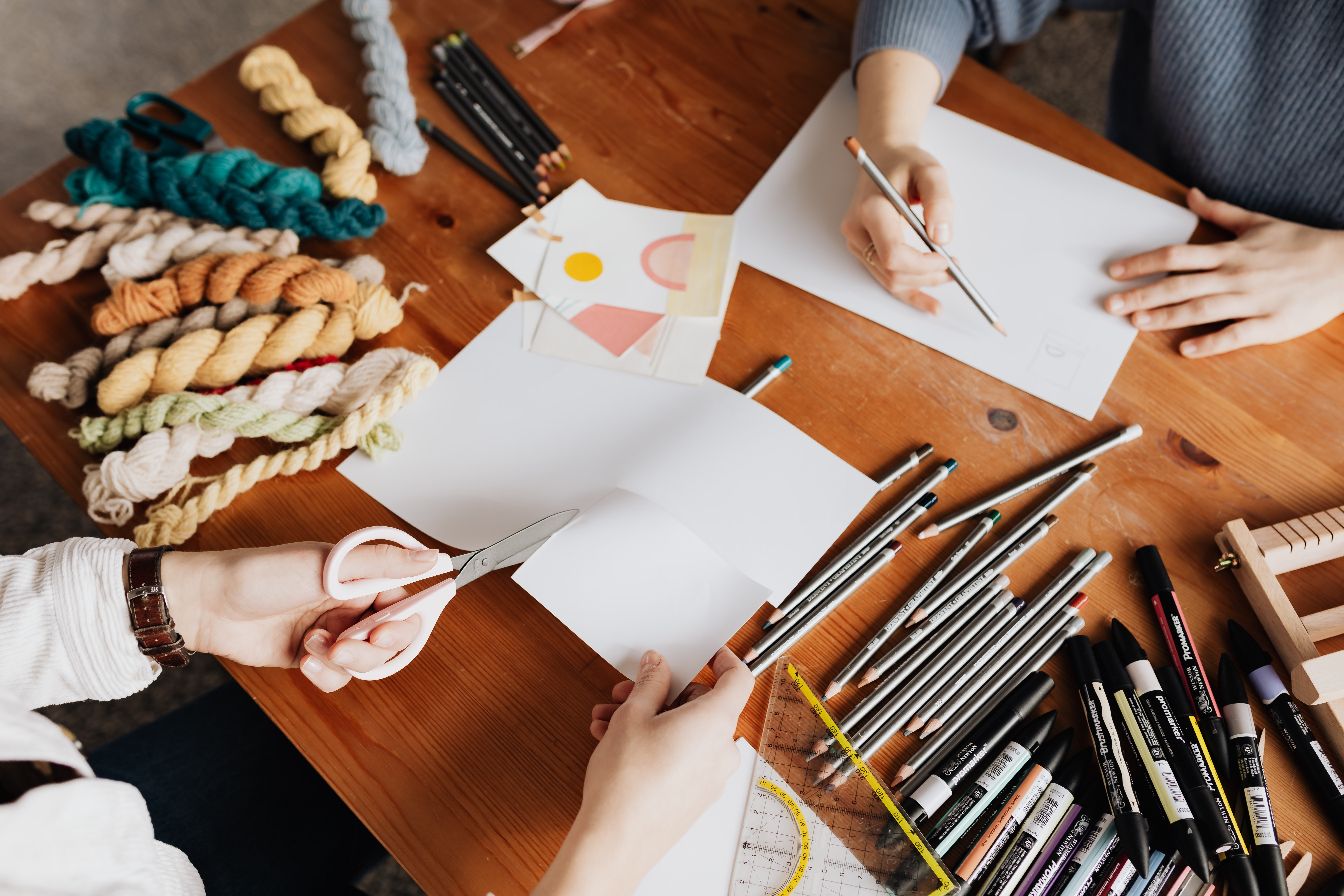 You could use your printed Designify card as a base, but these tips work even if you want to start with a blank piece of paper. Here are a few to help you whip up a gorgeous handmade Mother's Day card in no time.
Create a collage of special photos
With Designify you can create a digital collage — but it's also fun to put one together the "analog way" with some special photos of you and your Mom.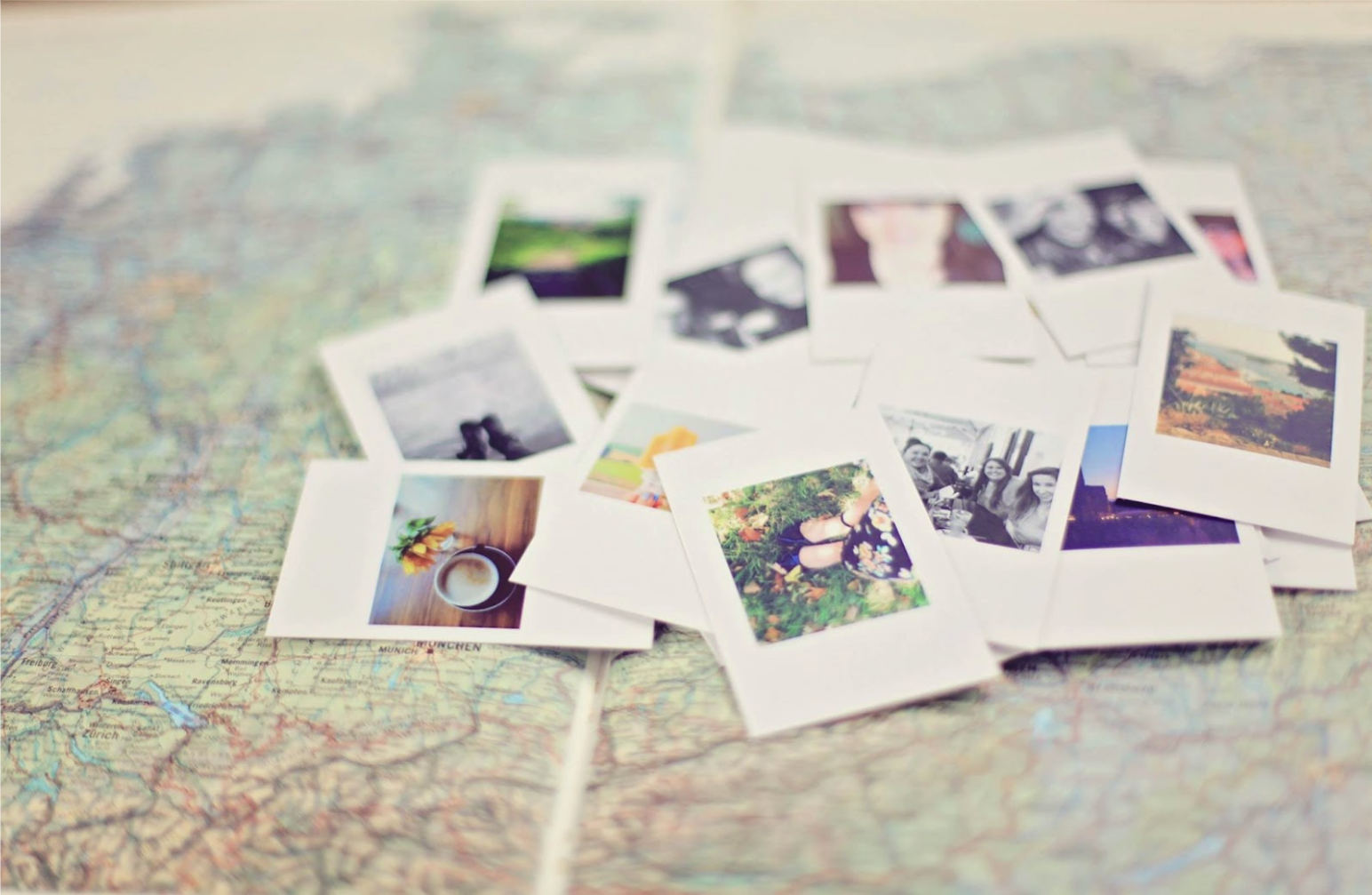 So once you've picked your photos, you have to:
Print them out

Cut their edges a bit so they fit your card just right

Paste them to the front page of your card

Write out your message on the inside
(If you're creating a collage with kids, make sure they use a safe pair of scissors when cutting out the photos.)
Use pressed flowers for your card
May's the season of flowers for a good reason — and with pressed flowers, you add a touch of elegance and creativity to your Mother's Day card.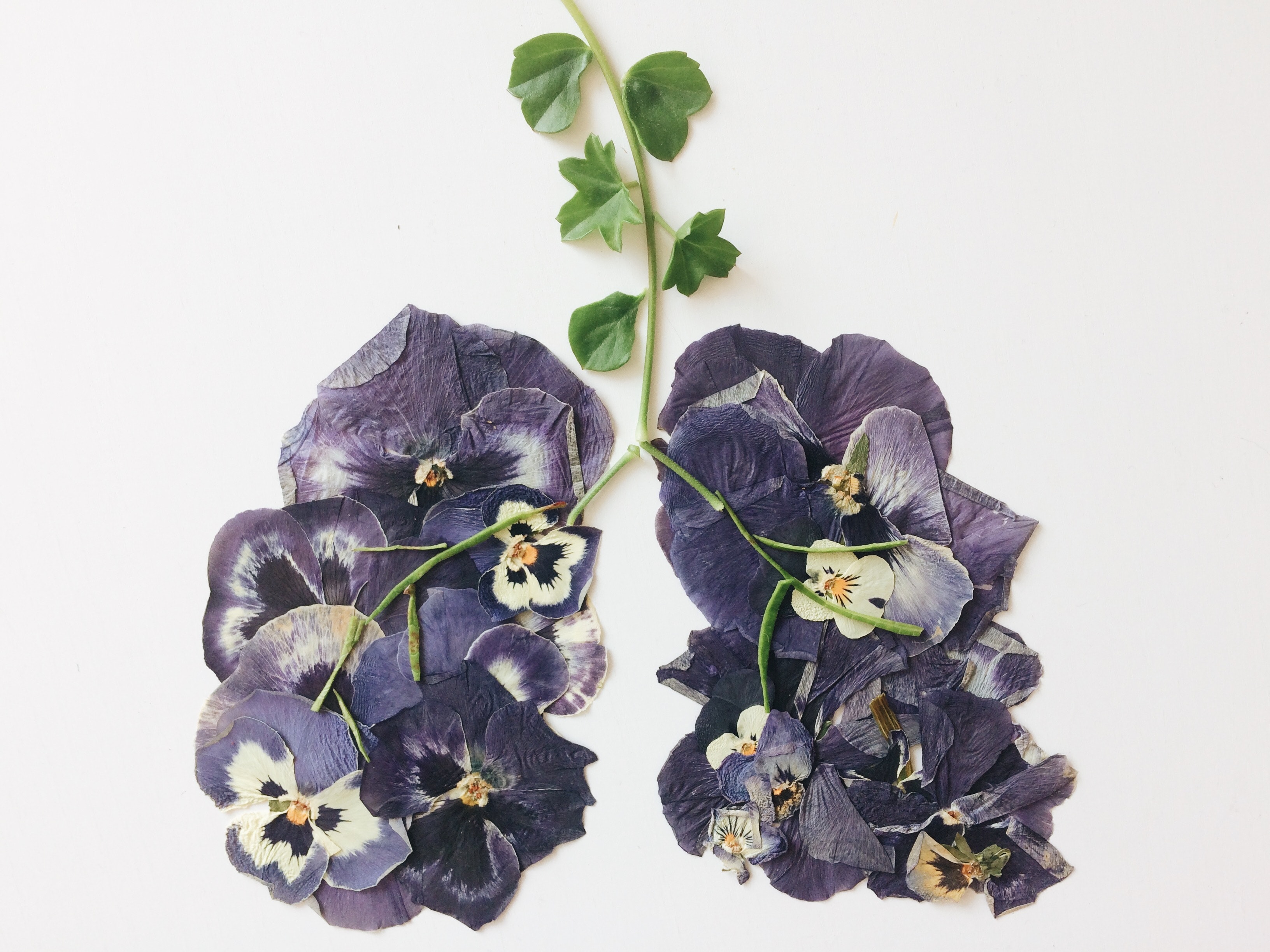 You can quickly create your own pressed flowers if you have some fresh flowers, coffee filters, and a microwave at hand. Here's how:
Place a coffee filter on a ceramic plate.

Place your flower on the coffee filter.

Cover the flower with another coffee filter.

Put another plate on top.

Microwave for around a minute.

Take out the plate and replace the coffee filters.

Place your plate on top again and microwave for another minute.

Repeat these steps until you're happy with the result.
You can also create dry, pressed flowers by storing them between the pages of a heavy book — like a dictionary or an encyclopedia. (Just a heads-up: this process might need around 4–5 weeks for a great result.)
Get hands-on with your design
Got a bunch of budding little artists at home? Let's get them in on the fun. With a simple set of paints and colors, you can create the following:
A handprint painting, where your kids can place their hands over the card to create cute bird or butterfly-shaped marks. Once they dry, you can help them write a personal message in the center to Mom.
A hand-traced drawing like this, which you can fill up with sequins, glitter, and other craft materials. Also perfect for a heartfelt Mother's Day message.

A fingerprint painting, which you can use to create a cute tree or heart-shaped image. Great for younger artists!
Where there's paint and color involved, things can get messy — so we'd recommend spreading a ton of newspaper clippings around when DIY-ing your Mother's Day card. Happy crafting!
Make Mom's day this May — with these Mother's Day card ideas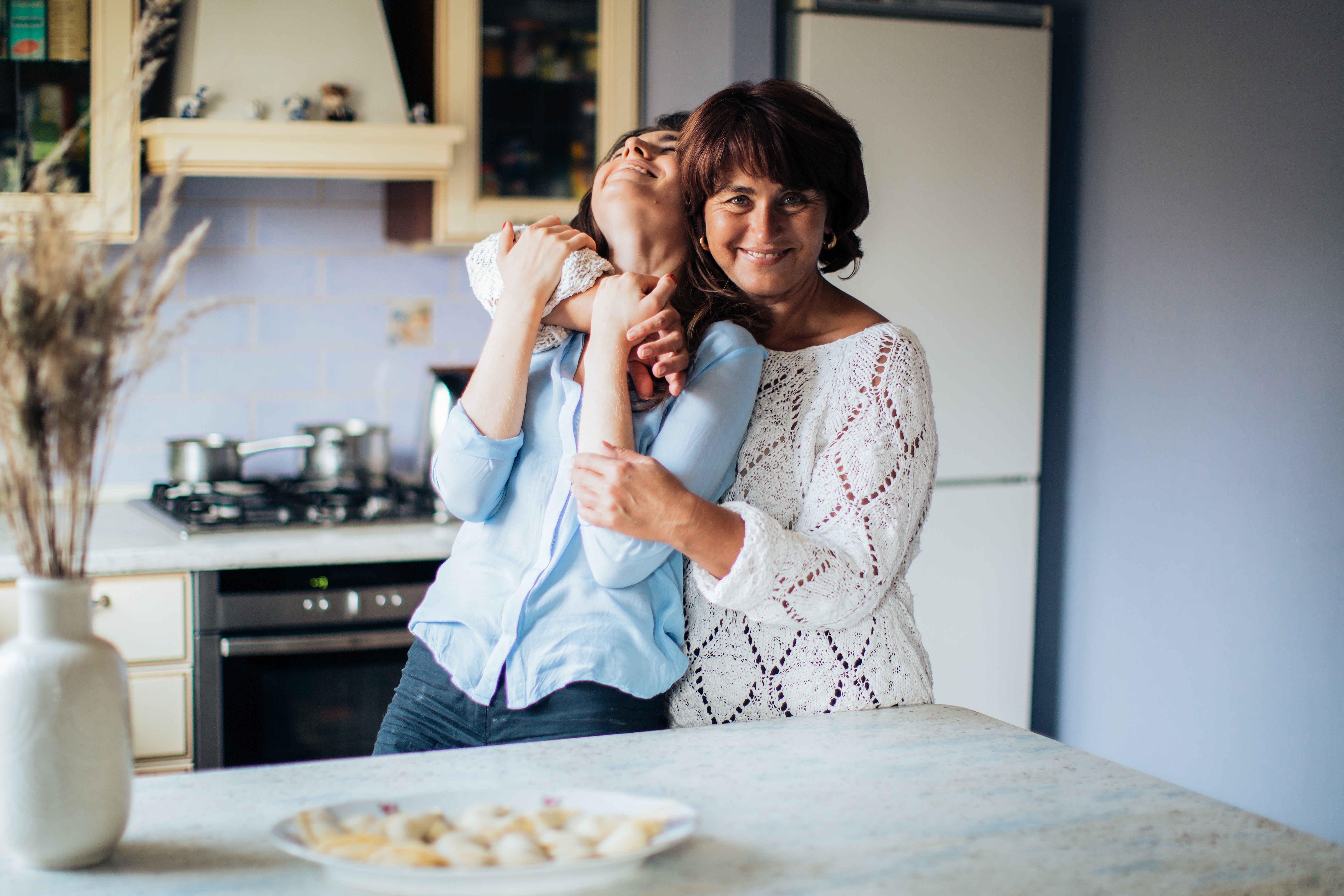 With everything the moms in our lives do for us, you'd think they'd be hiding an extra pair of arms or superpowers somewhere. So if you want to create something they'll treasure forever, here are a few cute Mother's Day card ideas for you:
Use Designify's Mother's Day Card template to create a ready-made card with a greeting — so you can dedicate it to them in no time.

You can create a Mother's Day collage dedicated to all the moms you know and love with the same template.

You can print out your Designify Mother's Day card with Canva's folded card options. So you can hand it over to your Mom in person.

You can also DIY a handmade Mother's Day card with a collage of memorable photos, pressed flowers, or some paints and colors you might have around. Perfect if you have kids at home and they want to add their personal touch.
Mother's Day Sunday is just around the corner — and there's no better time to create something unique and heartfelt for the moms in your life. Head to Designify, and create a beautiful Mother's Day card today.