Our phones are becoming more and more powerful, and maybe you've already ditched your DSLR camera for your phone. The same goes for photo editing. What was once only possible in Photoshop on a desktop, you can now do with that tiny thing in your pocket.
Things like removing a photo's background to edit another one, or adding a graphic design instead just became easy with the remove.bg Android app. Here's how to get the most out of the best background removal app on the market for Android users.
remove.bg: The best all in one solution for removing and changing photo backgrounds on Android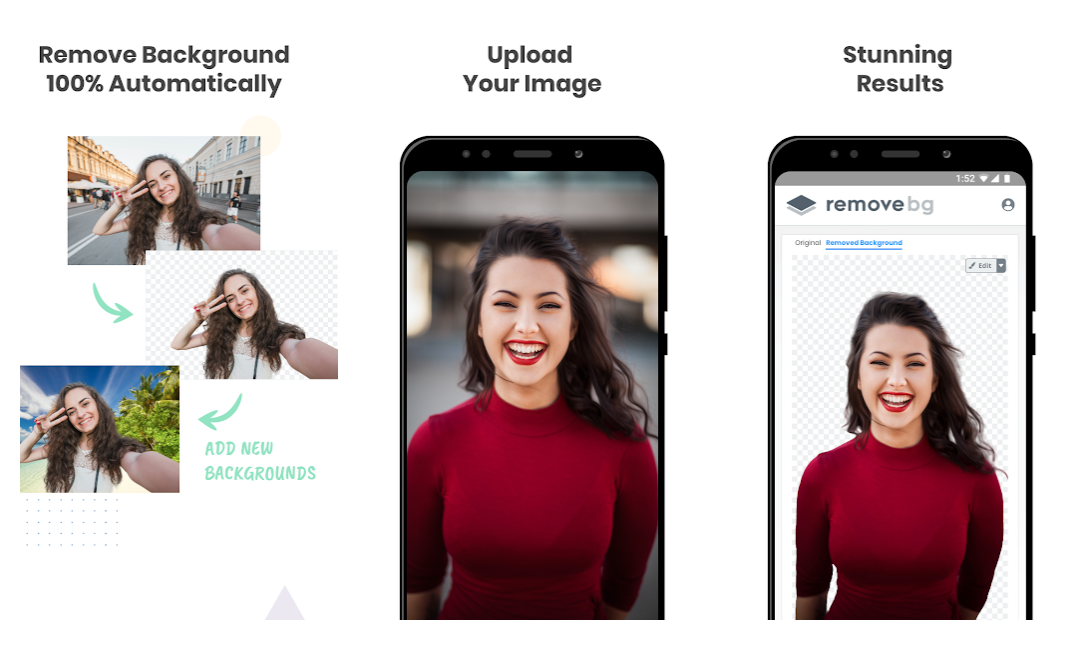 Removing the background of an image with our Android App is simple. Here's how you can do it in 5 easy steps:
Download the remove.bg Android app to your phone

Open it up 

Now go ahead and select the image of which you want to remove the background from your library

Removing the background of your photo will only take a few seconds, you can also change the background to a different color or add another image from our presets

Now go ahead and click on 'download' the photo without the background will save it to your camera roll
You can now choose this image and upload it to any photo editing app of your choice to continue editing your photo. If you don't have a simple photo editing app on your android yet, we recommend using PicsArt, VSCO, or Canva – if you want to add some fun graphics.
Hard facts on
remove.bg
Size on Android: 2.8M
Requires Android
5.0 and up
Installs: 5Million+
Rating on Play Store: 4.2
What makes it the best background removal app
Wondering how remove.bg is different from other android background remover apps and what's important to watch out for? Here are the most important things to watch out for.
Speed
The clear advantage of using remove.bg is its speed. Our super intelligent AI algorithm will remove the background of your image in seconds — which means you can easily and quickly edit your photos when you're on the go, want to quickly throw together a fun post for social media, or just don't have hours on end to edit a photo.
Powerful toolkit
We've also added additional features to remove.bg to make it even more powerful; you can add a green screen background (or any color of your choice) and we have preset new backgrounds to choose from. You really have a lot of options to choose from as the remove.bg android app has become a powerful tool kit.
Reliability
You can rely on remove.bg to deliver in seconds, as we're continuously improving the AI algorithm to create even sharper photos. You can use remove.bg not just on your android phone, but also on desktop apps and with an API integration. This way remove.bg is compatible with pretty much any device or tool you want to remove photo backgrounds with.
And on top of all that, you get the best quality results directly on your phone. Isn't that something?
Where to download the remove.bg android app
You can go ahead and download the remove.bg Android app by searching in the Play Store, or by clicking the button below.
Our step-by-step guide on how to remove the background of a photo with our Android app ends here. If you need to remove a ton of backgrounds from photos — go ahead and read our article on how to automatically remove backgrounds in Dropbox, Shopify, and 2,000+ apps and services.